AiM is the world leader in data acquisition for motorsports. The company offers products that combine the functions of traditional tachometers, temperature and pressure gauges, and lap timers in compact, high-performance and easy-to-use instruments. On-board cameras, steering wheels with integrated dash, digital displays, data loggers, GPS lap timers and sensors are among the brand's must-haves.

Onboard Cameras
AiM produces on-board cameras specially dedicated to motorsports offering HD image quality without distortion, even in the most extreme conditions. Compact, practical and easy to install, these cameras allow to integrate in real time all the important data (speed, RPM, number of laps, engaged gear...) in the videos to help you progress. The brand offers the all-in-one SmartyCam 3 Sport or SmartyCam HD 2.1 and the bullet SmartyCam GP HD 2.2 for all applications.

Dash Systems
Flagship products of the AiM catalog, the dash displays allow you to group all the essential information of your vehicle on a single screen: speed, RPM, throttle position, air/fuel ratio, various temperatures and pressures... These products, found in the Strada range (MXS, MXP, MXG), also integrate a shift light and configurable alarms. AiM also offers highly advanced dash loggers (MXS, MXP, MXG and MXL) capable of recording data from various sources to perfect your driving or the tuning of your vehicle.
GPS Lap Timers
Designed for motorsports, AiM GPS lap timers are ultra-precise and very easy to use. With more than 2,000 pre-loaded tracks and exceptional tracking capabilities, the Solo 2 is a classic, ideal for track days, regularity events, performance tests... Its high-contrast display with several backlight choices, its predictive lap timing and its Wi-Fi connectivity are among its strong points. Even more complete, the Solo 2 DL adds a data logging function thanks to its connection to the ECU.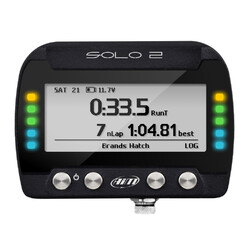 star star star star star
(1 reviews)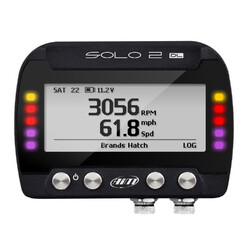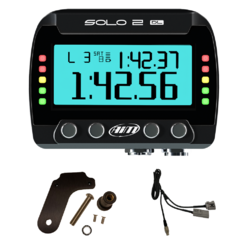 Steering Wheels with Integrated Dash
AiM steering wheels are among the most versatile on the market. The truly high-tech SW4 combines all the features that racing drivers dream of: an ultra-complete TFT display, a shift light and LED alerts, configurable buttons and switches, and an integrated data logger. Very light, waterproof and with an excellent grip, the SW4 is available in formula (260 or 270 mm diameter) or GT (320 or 350 mm) versions.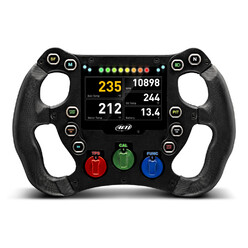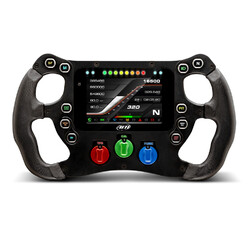 Accessories
AiM offers a wide range of accessories to extend the functionality or improve the practicality of its products. Below you will find mounting brackets for SmartyCam cameras or dashes, an MX Strada Logger kit to turn your display into a data logger, a GPS module, a 2 or 4 way CAN connection multiplier, thermocouple or channel hubs, and much more.

Cables & Sensors
You may need cables, sensors and other products to exploit the full capabilities of your AiM devices. The brand has thought of everything by marketing plug and play ECU harnesses, adapters, thermocouples and temperature sensors, speed or tire pressure sensors, suspension potentiometers, extension cables, connectors... Everything you need to perfect your installation and get the most out of your AiM devices!
Find Out More
For over twenty years, AiM has been developing and manufacturing state-of-the-art systems to help drivers and tuners improve their performance and that of their vehicles. The brand is involved in car, motorcycle and kart racing, and its products are used today by tens of thousands of drivers and teams around the world. AiM is in close relationship with many famous manufacturers such as Ferrari, BMW, Radical, Ariel or Ultima. It has also been a partner of several major championships and cups, such as Super GT, TCR, Audi Sport TT Cup, Super Taikyu, FunCup, Mazda MX-5 Cup...