Need a hydraulic handbrake or to improve your car's braking?
The brakes are essential elements which make it possible to slow down or stop the vehicle by transforming its kinetic energy into heat by friction. Most modern systems use discs or drums activated by the pedal via a hydraulic circuit. The handbrake, on the other hand, generally acts only on the rear wheels via a cable control (or electronic on recent cars).
Several active safety devices limit the risk of an accident in the event of unexpected braking. The most common are the ABS anti-lock braking system, the AFU emergency brake assist, the EBD electronic brake force distribution and the ESP electronic trajectory corrector.
Here you can find the different items that DriftShop offers to maintain or optimize your braking system:
Brembo, EBC, Wilwood, Motul, the best brands for efficient braking!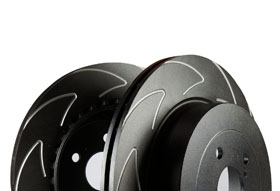 Our choice of brake parts covers all uses, whether it be for standard road driving or intensive driving on any type of surface.
Our range includes parts from the biggest brands specializing in braking, from standard discs to grooved and drilled discs, pads with different friction coefficients, braided hoses to repel the fading effect, pedals for total precision or even big brake kits from 2 to 12 pot.
We also provide some of the most heavily used in drifting: handbrakes, anti-lock buttons, brake shoes, hydraulic systems for quick locking and constant braking force and double caliper supports. We also offer many consumables to keep your braking system on top.