Choose the best tires for track use or for everyday driving
The tire is the only element that connects the car to the road. It is made of rubber, chemical additives, textile and metal cables, and has different types of tread depending on the tire. If symmetrical profiles are devoid of mounting direction and are suitable for small city cars, asymmetrical and directional ones on the other hand must respect a precise mounting direction and are recommended for powerful sedans and sports cars.
The primary role of the tire is to provide grip, but it must also withstand the roughness of the road, reduce road noise, have a measured wear, resist punctures, or be optimized to limit fuel consumption.
You can find on this page the biggest tire brands available at DriftShop to help you choose the right rubbers for your vehicle and your driving :
Michelin, Achilles, Dunlop, Zeknova, Valino, Yohokoma, Dunlop, Bridgestone, you can find some of the biggest tire brands here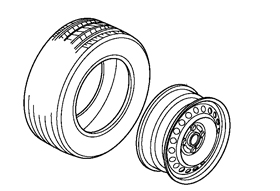 Whatever your use, here you will find the best products to match your needs, from the all-season tire to the winter tire, including the summer tire and the very high-performance semi-slick tire, approved for the road or reserved for competitive use. Our range features specialist brands, such as Michelin, Yokohama, Federal or Hankook, with a choice of diameters from 12 to 22 inches to cover all requirements.
Remember, the main marking of a tire looks like this: 195/55 R16 91H. The first number is the nominal width of the tire in millimeters, the second is the aspect ratio (ratio between the width of the tire and the height of the sidewall) in percentage, the letter indicates the type of structure, followed by the diameter of the rim in inches, then by the load index and the speed index.