Here are the finishing touches to add to your build for the weekend or the track
Accessories allow you to personalize your vehicle to give it a unique look. Although they are not essential for the proper functioning of the car, they can be practical, in addition to their aesthetic function.
These products can be installed directly on the car (license plate holders, stickers, etc.) but can also be linked more generally to lifestyle, with particular ranges of clothing, bags or goodies in the colors of a related manufacturer/brand.
DriftShop offers a wide choice of accessories at low prices to customize the appearance of your car as well as many products to facilitate its use or maintenance, without forgetting other high-quality miscellaneous products to fully show off your passion :
Count on Hoonigan for your clothing and round your project off with a Tsurikawa!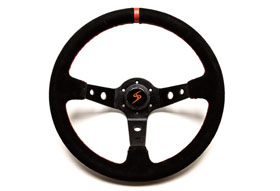 Do you want to apply the final touch to your project or simply add a little extra to your car so that it is perfect to your liking? Discover on this page the best accessories to stand out from the crowd and make a difference! You can find colored zip ties for all types of use, license plate holders stamped with the logo of tuning companies or teams, bucket seats for the office, clothes, key chains, lanyards and headwear with the colors of your favorite brands.
Our section dedicated to tools will allow you to equip yourself with jacks and stands, torque wrenches and other lubricating agents to help you tinker with your car safely, meanwhile, in the decoration section, you can find stickers to slap everywhere and flags for events or to hang in your garage.