For stance, drift, grip and rally, rims are essential!
On a car, the rim is the part which ensures the connection between the hub and the tire. Among the most common types are steel rims, which are very affordable but heavy and not very rigid, and aluminium alloy rims, which are more suitable for sports use. The latter can be molded (standard process with casting of the alloy in a mold) or forged (very high pressure modeling from an aluminum block for a stronger and lighter finished product).
Some manufacturers produce customizable rims in two or three parts. Assembled by screws or by welding, these have the main advantage of offering wide customization options. Also, if a rim is damaged, it is possible to replace only the damaged part without having to buy the complete rim or set.
DriftShop has a large choice of rims with a many designs, colors and dimensions for all uses :
Filter By
JR Wheels, Concaver, Rota, AutoStar, BBS, OZ, Sparco, Rotiform, 7Twenty, Momo Racing, they are all here!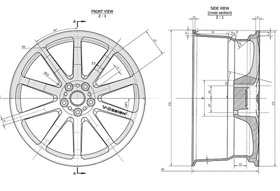 Our range of alloy wheels will satisfy all your needs, whether you are looking for affordable or premium products for road, circuit, drift or rally use. You will find on this page rims of all styles from brands like BBS , OZ, Momo, Sparco, Rota, Drag or Japan Racing, and available with a wide choice of diameters, offset, center bores, etc. to guarantee you adequate fitment on a large number of vehicles depending on your requirements.
Remember, the marking of a rim is in the following form: 19x7.5J ET35. The first number represents the diameter of the rim in inches, the second its width in inches, the letter J indicates the type of hook, and finally ET is the abbreviation for the German Einpress Tief, or offset in English, followed by a number expressed in millimeters.