Nothing is more comfortable than riding in a Sparco seat with a DriftShop steering wheel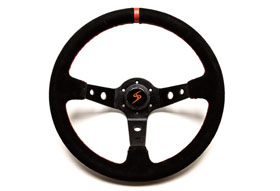 We offer a wide choice of parts from the biggest brands at great prices to equip and modify the interior of your vehicle according to your requirements. Find everything you need here with a selection of sport steering wheels for perfect grip and precise actions, bucket seats and harnesses for ideal body support and maximum protection, or gauges to keep an eye on your engine in all circumstances.
Also on this page: roll cages, fire extinguishers, driver equipment and other safety products for competitions or trackdays, accessories for customizing such as shifters and gear lever gaiters, pedals... or more track related elements such as batteries, circuit breakers, fuses boxes and LED strips for drifting.