The essentials for tuning your car's engine are available at DriftShop
The most essential organ of your car, the engine makes it possible to transform the energy generated by fuel combustion into a mechanical movement. The most common are cylinders arranged inline or in a V shape, but there are also designs where the cylinders are opposite one another as in the case of the Boxer engine, or not forgetting the original Wankel engine rotary piston. Some of these engines are naturally aspirated (air is sucked in from the exterior thanks to the pistons' quick stroking motion) while others are turbocharged (they take advantage of extra air intake with the addition of a turbo or a supercharger kit). All require special attention to ensure optimal and sustainable operation.

Whether you need to keep your engine running smoothly or increase its performance, DriftShop offers a full range of parts from the largest manufacturers by category:
Mishimoto, Garett, Wiseco, HKS, GReddy, ACL, Cometic, find the best parts here to enhance your performances!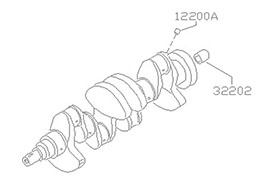 On this page, you will find the essential mechanical parts needed to take care and prepare the engine of your sports car.

We offer many internal components that will improve the reliability and performance of your engine, such as tri-metal bearings, forged conrods and pistons, reinforced head gaskets or adjustable camshaft pulleys, all suitable for different stages of preparation.

We also sell external parts required for the proper functioning of the engine. Among these, exhaust systems consisting of manifolds, lines and back boxes in stainless steel or titanium, intake kits and sports air filters, turbos and superchargers, electronics as well as many products that make up the water, oil and fuel circuits.