Looking for aesthetic or aerodynamic modifications, here is our selection!
The bodywork is the metal casing of a vehicle that protects the occupants and the mechanics. It can be made of steel, aluminium, plastic or different types of fibers. It is composed of a fixed structure which notably includes rear wings, floor panels, side beams, and removable covering elements such as the front wings, the hood, the doors, the lights ...
Cars are also classified according to their type of bodywork: unibody (or monocoque) and body-on-chassis. These categories then integrate various forms such as sedans, coupes, convertibles, estates/station wagons, etc.
Whether you need to replace a damaged part or customize the appearance of your car, DriftShop offers below a wide variety of body parts classified by brand, model and type of product:
A wide choice of body parts is available at DriftShop ! Origin Labo, Navan, Sparco, Jumdoo, etc..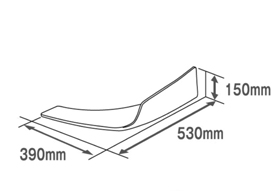 We have teamed up with some of the biggest bodywork specialists to provide you with the best products at the lowest prices, with many elements to cover all your needs. Origin Labo produces complete body kits for some of the major Japanese sports cars, but you can also find sets for other brands as well as a wide range of parts to enhance the style of your car or improve its performance. Among these parts, we offer ventilated carbon fiber hoods, over fenders, canards, Ducktail and GT spoilers ...
Our range also includes accessories such as tow straps or rings, customized plate brackets, Tsurikawa handles, products to take care of your bodywork as well as a section dedicated to lighting with tinted films or LED lights to improve your car's look as well as improving vision on road and track.