Discover DriftShop:
Created by drifters for drifters, DriftShop is a company based in France founded by Nicolas, Steve and Aurélie, three people who are passionate about motorsports. For almost 15 years now, we have been involved in drifting competitions and develop drifting in France and in Europe by organizing and financing major events.
We also source parts for enthusiasts at affordable prices. Our excellent customer service in English and French is here to help you with high quality technical advice, and because we know you want your parts as fast as possible, we offer express deliveries.
How is an order made at DriftShop?
Want to learn more about drifting ? Follow our blog (French) !
DriftShop grows drifting!
Since the early 2000s, drifting in Europe has grown slowly but steadily. We have drifters to thank for this of course, who are more and more willing to go to the tracks and shred tyres. The democratization of drifting, making it affordable for the public, and the presence of authorities like the FIA and the FFSA (French FIA) have also played big roles. To support these initiatives, DriftShop invests a part of its profits every year in drifting events and driver sponsorship.
Since 2011, DriftShop has donated various prizes and financial support to the Drift Cup and other competitions, and sponsors free practice track days. We also support several successful drivers in competitions, including Mike Kauffmann, Alexandre Strano, Axel François, Jérémy "Tchouf" Mérirès, Antoine "Nervous" Amar ...
Our association, the Motor Show Organisation (MSO) has been organizing the Drift Cup since 2005. This is the oldest French drifting competition, and has already hosted big names like the Drift Allstars, King of Europe, or International Drift Series, thanks to its extremely fast and technical layout. More than 10,000 spectators and 100 drivers gather there every year.
As soon as our schedule and track availability allow for it, we also organize drifting practice track days for the general public, at an affordable price. These track days are supervised by experienced, qualified driving and drifting instructors. We sometimes show up in other motorsports including rallies, drifting demonstrations during opening ceremonies, go kart, endurance and track racing.
Our team
Nicolas K.
CEO
Steve L.
Technical Manager & Driving Instructor
Aurélie K.
Administrative Manager & Events
Anthony P. 
Marketing & Sales Manager
Eric D.
Operations Manager
Bryan B.
Purchasing Manager
Julien M.
Customer Service Manager
William F.
Customer Service
Lucas D.
Customer Service
Ludovic S.
Customer Service
Alexis F.
Customer Service
Léo H.
Technical & After-Sales Support
Sébastien T.
Reception Manager
Florent M.
Reception
Jules K.
Reception
Régis R.
Reception & Counter
Clément G.
Order preparation
Thomas S.
Order preparation
Morgan R.
Order preparation
Ewen D.
Order preparation
Patrick G.
Web Manager & Development
Dominique G. 
Web Development
Sylvain M.
Editor
Dominique R.
Media & Marketing
Sophie F.
Marketing

We all thank you for your continued support over the years!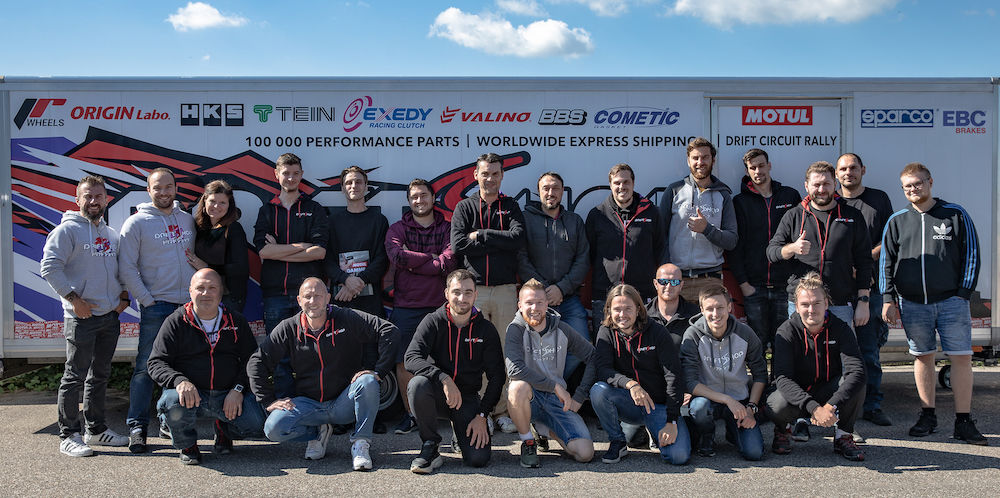 Our Brands

Official Distributor of ACL, AEM, Aerocatch, Aisin, ARP, AST Rollcages, Athena, ATL, Autostar, BBS, BC Racing, Bride, Cobra, Cometic, Competition Clutch, Concaver, Cooling Solutions, D2 Racing, Deatschwerks, Défi, DKM, DriftMax, DriftParts, Driftworks, EBC, Exedy, Foliatec, Garrett, Goodridge, GReddy, HKB, HKS, Hoonigan, HP Ignition, HSD, Innovate, Japan Racing, Kaaz, Koyorad, MaxxECU, Mecacyl, Mecatech, Milltek, Mishimoto, Momo, Motul, Nardi, Navan Performance Lighting, Next Level Racing, NGK, Nismo, Nitron, Origin Labo, OZ, Performance Friction, Personal, Powerflex, ProSport, Rota Wheels, Rotiform, Setrab, Sparco, Stand 21, StolarWorks, SuperForma, Takata, Tein, Tomei, Turbosmart, Valino, Vibra-Technics, Walbro, Whiteline, Wisefab, Wössner, Yokohama, Zeknova and many others !