Link Engine Management (also known as LinkECU) is one of the market leaders in specialized motorsports electronics. Headquartered in New Zealand, the company develops, manufactures and markets engine control units that are known worldwide for their high performance, reliability and value for money.

Engine Management Units
The Link programmable ECU range currently consists of the G4+ (introduced in 2013) and G4X (2019) series. The G4+ is powered by a 40 MHz processor with 32 MB memory for data logging (management of 100 parameters) and can display 30 general purpose tables, while the G4X benefit from a 150 MHz processor with 512 MB memory (250 parameters) and display 45 general purpose tables. The G4X are available in WireIn version which requires adapting your vehicle's harness to the ECU and in PlugIn version to be plugged directly and without modification to your vehicle's harness. The latter are available for many sporty Audi, BMW, Honda, Mazda, Mitsubishi, Nissan, Subaru and Toyota models.

Accessories
To extend the capabilities of your programmable ECU, Link offers a wide range of cables and looms, sensors, peripherals and other accessories. The manufacturer also sells convenient keypads that allow you to keep the engine functions you want to control close at hand. Available in 8 or 12 button versions, these keypads are fully customizable and compatible with all G4X ECUs of the brand.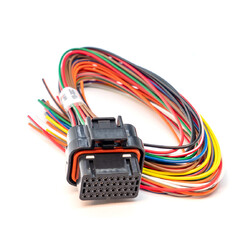 Over 30 Years of Expertise
Founded in 1991 by a group of passionate engineers, Link Engine Management, or rather Link Electrosystems Limited back then, quickly made a name for itself with their first ECU, the EMX. Completely assembled by hand, this unit allowed to simply control the fuel and ignition of engines with electronic fuel injection. In 1995, the LEM of the new G1 series was released, a great lineage that has evolved over the years to arrive at the G4X range, which is as powerful as it is diversified, launched in 2019. Involved in motorsports for decades, Link is the official partner of many major competitions and supports talented drivers, such as in drifting with the Shanahan brothers, Matt Field, Duane McKeever, Naoki Nakamura or Daigo Saito, among others.