Based in Yokohama in Japan TEIN (TEchnical INnovation) specialize in the manufacturing of aftermarket aftermarket suspension kits for sports vehicles. Each kit is the result of intense research and development, to get ahead of the competition. Known around the world for the quality of their products made in Japan, TEIN has numerous dealers in Europe. DriftShop is the exclusive dealer for TEIN in France, with many products available in stock for speedy delivery !
Looking for a kit that isn't on the site ? Don't hesitate to contact us for more information !

Coilovers
Designed to suit all uses, TEIN's range of coilover suspensions consists of Street Basis / Advance, Flex, Mono Sport / Racing, Super Racing / Drift, Type HG ... Suitable for road use, track, drifting or rallying, these suspension kits allow for precise ride height adjustment and have, on most models, a hardness adjustment wheel with 16 levels, top mounts with rubber bushes or ball joints (with camber adjustment on the latter), and are compatible with EDFC systems.

Sport suspensions
Available individually, TEIN sports shock absorbers have the same shape as the OEM ones while offering superior durability and handling. Despite their very low prices, they benefit from a reinforced design, contain more oil and incorporate an internal hydraulic stopper for better reliability and comfort during heavy compressions. The range is made up of two models: EnduraPro (fixed damping) and EnduraPro Plus (twin-tube configuration, 16 level hardness adjustment, compatible with EDFC).

Lowering springs
Designed for the road, TEIN lowering springs allow you to lower your vehicle for less by combining them with original or sport shock absorbers. They have progressive design, incorporate anti-noise rubbers on certain references) and benefit from an Epoxy paint finish. S-Tech springs improve your suspension with significant lowering for an agressive look and better handling, while the High Tech model has the latest technological innovations to optimize comfort and performance with a more subtle lowering.
EDFC Suspension Management System
The TEIN EDFC (Electronic Damping Force Controller) system allows you to modify the stiffness of the suspension from inside the car using motors installed on the damper adjustment knobs. In addition, the adjustment range goes from 16 to 32 levels, or even 64 (only on EDFC Active and Active Pro) for optimal performance. On the Active and Active Pro models, the hardness can be corrected automatically according to variations in the g force and / or the speed of the vehicle. Different optional equipmentt is available : Active Driver Unit, Strut kit, GPS kit, motor kit, wiring ...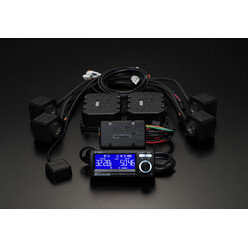 star star star star star_half
(2 reviews)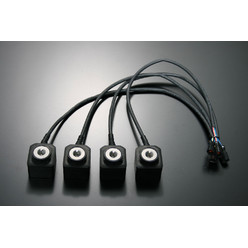 Coilovers & Lift Kits for 4x4
The manufacturer TEIN markets coilovers specially designed to lift off-road vehicles and thus improve their crossing capacities. The range is made up of the Street Advance Z4 and 4x4 Damper Sport, each model providing a height adjustment via the spring and a 16-stage damping adjustment via the dial. Ideal for use on all types of terrain, these coilovers feature a twin-tube design and hydraulic bump stoppers for exceptional comfort and stability, even on rough surfaces. They are compatible with EDFC systems.

Goodies & merchandise
TEIN markets a whole collection of different products and accessories to please fans of the brand. Including T-shirts, caps, key chains, backpacks, watches, magnetic cell phone holders, stickers or plush toys of the famous TEIN couple Dampachi and Dampatty, there's something for everyone in our selection of official items directly imported from Japan.