DriftShop Sim Racing Cockpit
Some options are available below Please check them before adding to the cart
DriftShop Sim Racing Cockpit
Solid steel construction
GT/rally driving position
Fibreglass bucket seat with cotton fabric cover
Multiple seat, steering wheel and pedal panels adjustments
Compatible with most steering wheels and pedals
Optional monitor stands
Scratch resistant black powder coating finish
Excellent value for money
Tested and approved by our DriftShop experts
Weight capacity : 130 kg
Assembly kit included
Express shipping!

Ask a question about this product
Sim Racing Cockpit Specifications
Developed by the experts at DriftShop, this excellent value for money racing simulation cockpit has been designed to offer each user a realistic and immersive virtual driving experience. Combining stability and comfort, it is based on a very solid steel chassis allowing a GT or rally type driving position and is finished with a high quality black anti-scratch powder paint.
This play seat in DriftShop colours features a bucket seat inspired by racing models with a fibreglass shell and covered in breathable fabric. The seat is adjustable for depth, height and tilt using slides and side brackets. The steering wheel and pedal panels are also adjustable in several ways: up/down and forward/backward for the former, depth and tilt for the latter. In this way, each user can obtain the ideal driving position according to his or her body size.
This highly versatile equipment can be upgraded with optional accessories to make it a full-featured simulator and further enhance the experience of playing. Two TV stands are available: single monitor or triple monitor. These are easily attached to the chassis in the slots provided. The gear shift and handbrake mount, which can be placed either on the left or right of the cockpit depending on the user's choice, is always supplied by default.
This cockpit is compatible with the majority of steering wheels and pedal boxes available on the market. Here are some examples of supported brands: Thrustmaster, Fanatec, Logitech, Azracing, Moza... Please contact us for a complete list of compatible models. This product is supplied with assembly instructions and the necessary tools and hardware for installation.
Technical Data
Package size : 96 x 62 x 52 (40 kg)
Floor space : 60 x 113 cm (23.6" x 44.3")
Weight capacity : 130 kg (286 lbs)
Frame type : fixed frame
Frame material : steel
Frame surface finish : powder coating
Frame color : fine texture black
Seat type : fiberglass bucket seat with cotton fabric cover
Seat width : 460 mm (18.1")
Seat gliding track : 220 mm (8.7")
Seat height range : 25 mm (0.98")
Seat back tilt range : -6° to +6
Steering wheel panel tilt range : -35° to +25°
Pedal panel tilt angles : 0°, 15°, 27°
Cable management : yes
Downloads
Seat Size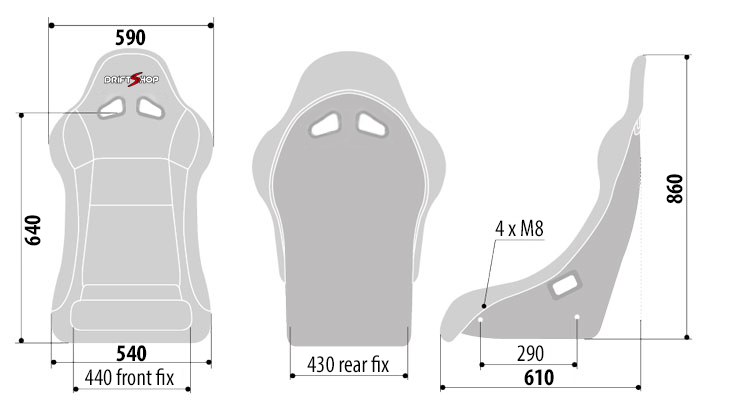 Customer Reviews
5 customer reviews
4.8
star star star star star_half
star star star star star

80% (4)

star star star star star_border

20% (1)
star star star star star

Product ordered on 07/09/2023 by FABIEN D.

Excellent cockpit ! Tres rigide ,aussi bien au niveau du pedalier que du support volant. Pour 100 euros de plus que le oplite gtr s3 il n'y a pas a hesiter, le cockpit driftshop gomme tous les defauts de ce dernier .

star star star star star

Product ordered on 29/03/2023 by Eric C.

super cockpit simracing a un prix incroyable. Rigide et beau!

star star star star star

Product ordered on 19/03/2023 by LEMAULF C.

Tres bon produit

star star star star star

Product ordered on 08/03/2023 by Frédéric B.

Tres bon cockpit

star star star star star_border

Product ordered on 27/07/2023 by François-Xavier F.

Très content de ce cockpit, il a cependant été déconseillé sur un groupe de sim racing pour sa robustesse. Je ne suis pas d'accord sur ce point, le chassis est très robuste et ne bouge pas d'un poil. Une chose negative, le support de levier de vitesse n'est pas compatible avec le frein a main/shifter thrustmaster. J'ai du fabriquer une plaque en métal pour pouvoir l'adapter. Pas bien compliqué pour les bricoleurs.
Customer Reviews
4.8
star star star star star_half
5

reviews

Not only supporting the development of drifting in France and in Europe, organising events or sponsoring drivers, DriftShop also make it their goal to allow drifters of all levels to easily equip themselves. With great customer service in French and English offering expert technical advice, a huge stock and express delivery times, DriftShop has even developed its own line of products that are excellent value for money.