The famous Italian equipment manufacturer Sparco, known for its steering wheels, bucket seats, helmets and racing suits, launched in 2017 for its 40th anniversary in the world of virtual racing simulation. A decision motivated by the desire to offer quality products, accessible to as many people as possible, and to become a major player in e-sports. Regularly expanded, the Sparco Gaming range now includes play seats, all-in-one simulators, gaming bucket seats and chairs, apparel and accessories.
Play Seats & Simulators
Sparco Gaming has a full line of sim racing cockpits suitable for all player profiles, whether they want to put together their own play seat or enjoy a ready-to-use unit. The Evolve series includes the adjustable 3.0 chassis, the Start play seat for beginners and the Pro for advanced users, as well as the GP with its single-seat position. The Sim Rig I and II, meanwhile, offer expanded configuration options including a force feedback steering wheel and pedal box.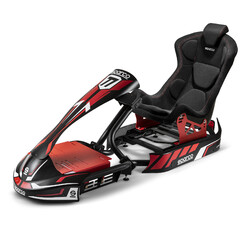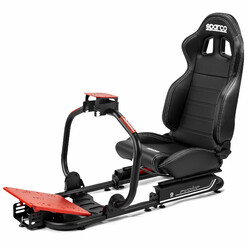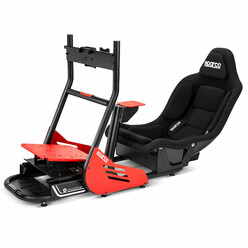 Bucket Seats & Gaming Chairs
To get the most out of your racing simulation, choose one of the many bucket seats offered by Sparco Gaming. These faithful replicas of real FIA bucket seats used in motorsports offer both comfort and support. Whatever your size, you will find with Sparco Gaming the right product for you thanks to the wide range of models available. Also discover gaming or office chairs mounted on caster wheels that will allow you to string together long gaming sessions without fatigue.
Accessories
To complete your gaming setup, Sparco Gaming offers a wide range of accessories and spare parts, so you can enjoy your equipment for a long time and in the best conditions. Check out mounting brakets and cushions for bucket seats, shifter or handbrake mounts and screen stands for play seats, or armrests and casters for office chairs.

Gaming Apparel
Sparco Gaming has come up with a range of apparel specifically designed to enhance your gaming experience. Combining style, comfort and performance, these breathable garments help limit sweat, increase your accuracy and improve your feel. T-shirts, socks, gloves and shoes: Sparco Gaming outfits you from head to toe to help you excel!
In the Game since 2017
Sparco Gaming's story began in 2017 with the creation at the Italian manufacturer of a division focused exclusively on video gaming and the launch of a promising first product line. The catalog offered 3 office bucket seats: the entry-level Grip in synthetic leather, the mid-range Stint model in breathable fabric, and the luxurious Comp inspired by the Sparco SPX, available in Comp V (fiberglass backrest) or Comp C (carbon fiber backrest). The offer was completed by the static Evolve cockpit, very rigid and highly adjustable, the result of long anthropometric studies with Humanetics for a perfect driving position, similar to GT and rally cars.