Legend Arch Extensions - 65 mm (Fender Flares)
Some options are available below Please check them before adding to the cart
90 mm Legend Fender Flares
"Legend" hyperbolic design
Sold in pairs
Width : 90 mm per fender (see detailed dimensions below)
Made from ABS plastic
Ultra flexible and extremely resistant
Anti-UV coating
Flat black finish

Ask a question about this product
Legend Fender Flares Description
Perfectly mixing classic and modern designs, theses fender flares are made from 2 mm thick ABS plastic, ultra flexible and extremely resistant, as shown in the photo above. They can be thermoformed if required, and have an anti-UV coating. These unique properties ensure great resistance for all types of use, with an exceptional lifespan. They can be easily adapted to fit a wide range of bodywork shapes.
These Fender Flares can be painted or installed straight away, in their flat black finish. Sold in pairs, one flare weighs 500 g and offers an extension of 90 mm.
Dimensions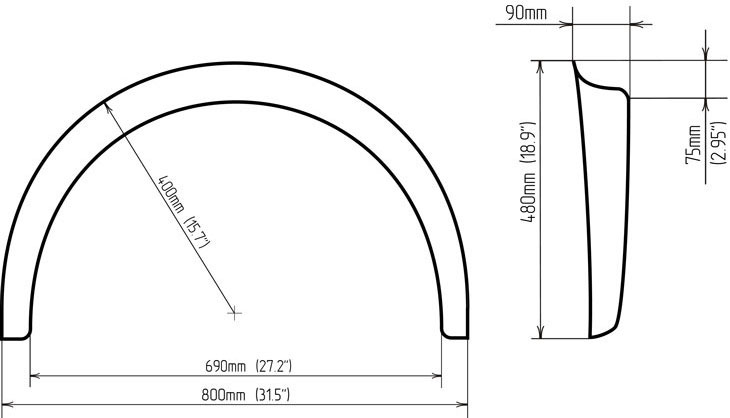 Optional Gasket
The rubber gasket made by 3M guarantees a perfect finish between your bodywork and your fender flares. Flexible and stretchable, resistant to UV rays and freezing, this high quality gasket doesn't dry out, doesn't crack, doesn't scratch and has a long lifespan. With 3M double sided adhesive, this gasket will fit perfectly between your arches and flares, ensuring they stay in place, with no play and a waterproof seal. It prevents dirt (dust, sand, etc.) and water from getting stuck, protecting the bodywork. Sold in 3.5 meters strips, usually enough for a pair of fender flares.
Optional Fitting Kit
Our installation kit made from stainless steel includes 12 inserts, 12 washers and 12 screws. Its sophisticated design allows you to install your fender flares with a professional finish, reliable and strong, all while making the part easy to attach and remove (compared to an installation with rivets). Learn more.
Important
We pay special attention to the protection and packaging of these items for shipping. However, it is imperative to check the package contents and condition of the goods delivered in the presence of the delivery driver. If necessary, state condition reservations on the transport document before signing. No claims against the carrier or DriftShop will be possible if the issues were not addressed with the driver upon delivery. If there are any issues with the goods, sign for as "damaged".