Turbosmart Gen V Wastegate Springs
Some options are available below Please check them before adding to the cart
Turbosmart Wastegate Springs
To suit Turbosmart Gen V external wastegates
Allows you to achieve your target boost pressure
Several spring pressures available
Color coded for easy identification
Quick and easy to install
Sold individually

Ask a question about this product
Turbosmart Gen V Wastegate Springs Specifications
These Turbosmart springs to suit the manufacturer's Gen V external wastegates allow to quickly achieve your target boost pressure to optimize your forced induction system. In addition to helping to reduce the overall wastegate size and significantly improve the sealing of the diaphragm housing, the threaded locking collar unique to the manufacturer's Gen V units also makes springs swap less tedious than before.
Several spring combinations may be required to reach the boost pressure of your choice. The Gen V wastegate diaphragm housing is grooved so it can accommodate up to 3 different springs: inner, middle, outer. To achieve your target pressure, Turbosmart recommends you to use your Gen V external wastegate in conjunction with the manufacturer's e-Boost controller.
Springs are available for the following Turbosmart wastegates:
Gen V Ultra-Gate 38 mm
Gen V Comp-Gate 40 mm
Gen V Hyper-Gate 45 mm
Gen V Pro-Gate 50 mm
Gen V Power-Gate 60 mm
You can refer to the following charts summarizing the color code of the different springs available as well as the multiple possible combinations.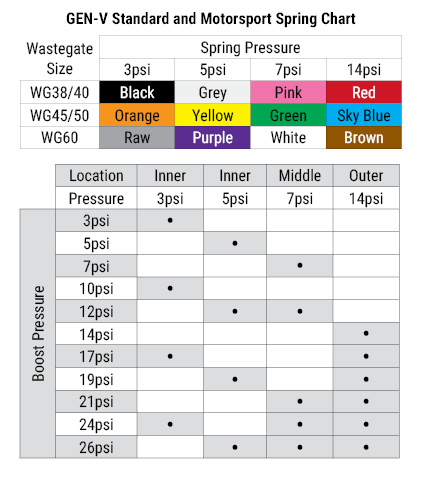 Watch below the video tutorial of the manufacturer showing the installation of these wastegate springs:
Founded in 1997, the Australian company Turbosmart is one of the leaders in solutions for boost regulation. Reputed for their quality and reliability, the brand's products are developed, made and tested exclusively in-house, whether it be dump valves, wastegates, boost controllers, gauges or pressure regulators. Turbosmart's slogan, "Engineered to win", is a statement of the firm's goals in terms of performance and competitiveness.