Powerflex Poly Bushes for Mitsubishi Lancer Evo 6 (VI)
Some options are available below Please check them before adding to the cart
Mitsubishi Lancer Evo 6 (VI) Powerflex Poly Bushes
Made in Europe
Complete kit, or specific bushes
To suit Mitsubishi Lancer Evo 6 (VI)
Powerflex Road Series (purple) : road and sports use
Powerflex Black Series : uncompromising performance
Powerflex Heritage : restore and compliment any collector's car
Lifetime warranty !
Any technical question? Contact us!

Ask a question about this product
Powerflex Polybushes for Mitsubishi Lancer Evo 6 (VI)
Powerflex are one of the best when it comes to upgrading your vehicle's chassis. Their polybushes go directly in place of the existing bushes, improving your vehicle's performance, handling and safety. The ideal starting point of any chassis restoration project or preparation for intensive use !
Powerflex bushes are available in 3 different ranges :
Road Series : usually purple (Shore hardness 70 to 80A), these bushes are intended to replace the OEM ones. Optimized for standard or sporty use, they are simply the best choice for your road vehicle.
Black Series : Designed for racing and uncompromised performance, Powerflex Black Series bushes are 25% stiffer than their purple counterparts (Shore 95A). They guarantee perfect precision and geometry for racing, rally, or drifting.
Heritage Collection : ideal for classic vehicles and youngtimers, the Heritage range combines modern Powerflex technology with a vintage stock looking aspect (dark grey color). It allows you to restore your vehicle with an OEM look, and to preserve its original ride comfort while improving the performances.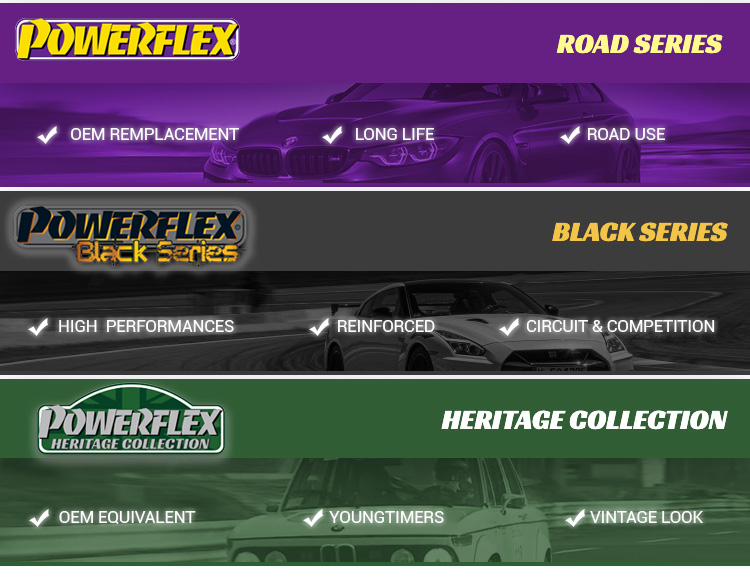 Characteristics
| | |
| --- | --- |
| Car Make | Mitsubishi |
| Car Model | Mitsubishi Lancer Evo 6 (VI) |

Created in England in 1996, Powerflex specialise in polybushes. Their knowledge of automobile suspensions and chassis, combined with advanced manufacturing techniques, have helped Powerflex become the global leader in their market. Whether it be on the road or on the track, Powerflex offer a wide range of polybushes to suit all your needs.