DriftShop Competition Bucket Seat (FIA)
40 in stock
Dispatched Friday, March 31, 2023
DriftShop Competition Bucket Seat
Fiberglass bucket seat
Strong and durable one-piece design
Fire retardant and non-slip fabric cover
Memory foam filler
Embroidered DriftShop logos
Split leg cushion
Suitable for 4 or 6 point harnesses
Hans compatible
Adjusted for M or L size drivers
M8 side mounts with 290 mm spacing
FIA 8855-1999 approved
Weight : 7.6 kg

Ask a question about this product
DriftShop Competition Bucket Seat Specifications
Our lightweight fibreglass Competition bucket seat is aimed at motorsport enthusiasts looking for both a high level of support and comfort. Particularly robust thanks to its one-piece design, it features memory foam padding and a flame-resistant, non-slip black fabric cover with embroidered DriftShop logos. It also has a generous split leg rest cushion to help improve body support and overall seating comfort.
The DriftShop Competition bucket seat is compatible with 4 or 6 point harnesses. It can also be used with a Hans type FHR system for maximum whiplash protection. It is FIA 8855-1999 approved for 5 years from the date of manufacture of the seat and is ideal for both racing and track days. It is installed in your vehicle using M8 x 290mm side mountings (seat brackets not included).
Seat Size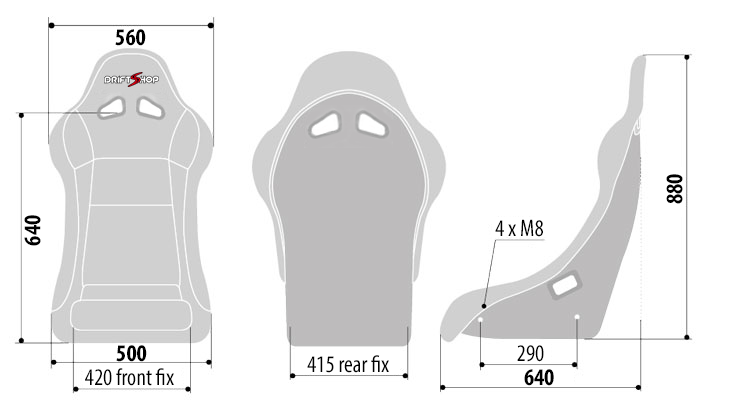 Characteristics
| | |
| --- | --- |
| Manufacturer | DriftShop |
| Material | Glassfiber |

Not only supporting the development of drifting in France and in Europe, organising events or sponsoring drivers, DriftShop also make it their goal to allow drifters of all levels to easily equip themselves. With great customer service in French and English offering expert technical advice, a huge stock and express delivery times, DriftShop has even developed its own line of products that are excellent value for money.