Whether you're competing in a racing car or enjoying the thrill of a recreational track day, racewear is an essential that goes far beyond mere visual appeal or advertising. These products are just as important as the tuning of the car itself, guaranteeing the safety of the driver (and co-driver) by protecting them from flames, impacts and various projections. In this article, we focus on helmets, gloves and shoes, increasingly sophisticated items of equipment, each with their own specific features!
Summary:
1. Helmet: safety and comfort
Introduced at the beginning of the 20th century to make motorbike racing safer, helmets are now an essential safety feature in all motor sports. So it's hardly surprising to find it on the list of mandatory equipment for rallying, drifting, karting and other competitions, as well as for driver training or track days.
Uses and composition of a helmet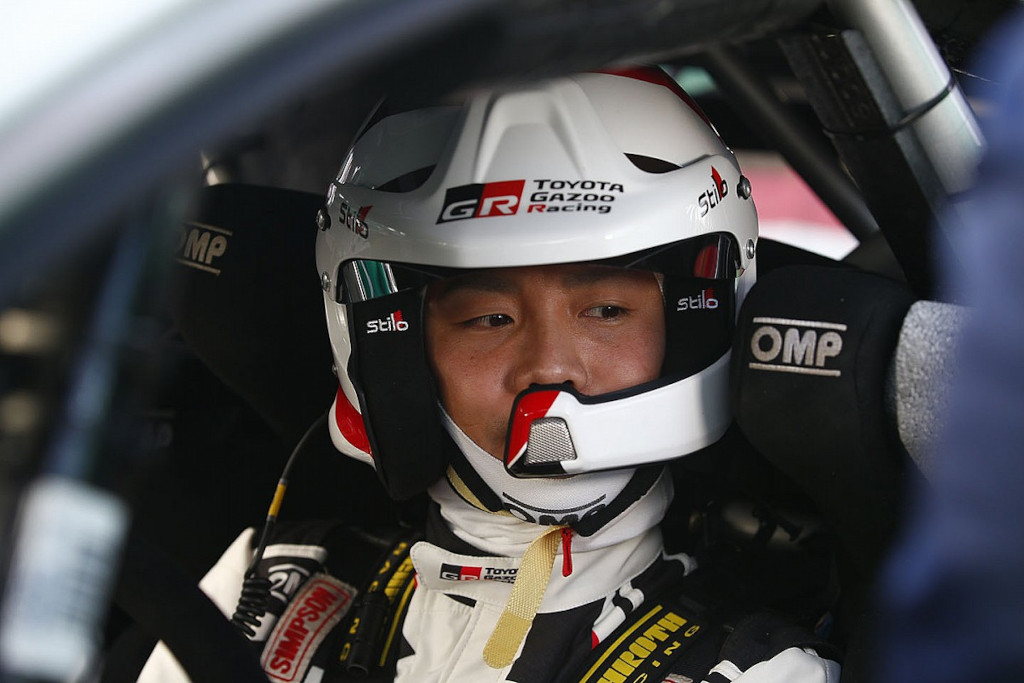 The primary role of a car helmet is to protect the driver's head in the event of debris being thrown up or hitting the pillars or roll cage in the event of a collision or rollover. It also protects the eyes from wind and insects when used in an open vehicle (prototype, single-seater, etc.). Some helmets can also be fitted with tinted visors or caps for more comfortable driving under very bright skies.
There are two types of car helmet:
open-face helmets
full-face helmets
An open-face helmet leaves the face and chin visible. It offers limited protection but allows a wide field of vision and good ventilation. It is also lighter than a full-face helmet and is therefore more comfortable, weighing slightly less on the neck. Its design is suitable for use in closed vehicles, and is often found in rallying.
A full-face helmet covers the whole head and has a protective visor for the eyes. Generally heavier than an open-face helmet, it may be less comfortable to wear, but its level of protection in the event of an impact is unrivalled. It is suitable for use in both open and closed vehicles, and is particularly popular on the racetrack.
Helmets that are not approved for racing generally have a shell made of thermoplastics or ABS, while motor sport helmets are made of composite materials such as fibreglass, carbon or Kevlar, and feature a fire-resistant inner layer of Nomex fibre. Whatever type of helmet you use, it is essential to replace it after a violent impact.
How to choose your helmet?
When it comes to buying a helmet, looks and price shouldn't be the only criteria. Safety, comfort and compliance with standards are also important. It's also important to think about how the helmet will be used, whether it will be worn exclusively for occasional recreational driving sessions or whether it will be worn in competitions and events subject to FIA regulations.
Even if the helmet is not approved for competition use, it must still comply with at least the European ECE standard (if it is used in Europe). This is identified by a white label sewn onto the chinstrap. The French NF standard, which is tending to disappear, is shown on a green label.
An FIA-approved helmet meets more stringent requirements in terms of protection and safety. In particular, it must be flame-resistant. The label certifying FIA approval can be found on the inside of the helmet. Note that the helmet must be fitted with anchorages for an FHR system (HANS or Hybrid) if you plan to race in an international event governed by the FIA.
To buy the right size helmet, you first need to measure your head. Take this measurement above the eyebrows, using a tape measure. This is usually between 53 and 64 cm. A balaclava adds a few mm, so don't forget to take this into account if you plan to wear one under your helmet. Below is an example of a table showing the equivalence between head size and helmet size:
Finally, remember that it is not recommended to buy a second-hand helmet. Without knowing the history of the helmet, it is not always easy to identify any previous impacts with the naked eye, not to mention the fact that some materials do not age well and standards quickly become obsolete.
Helmets at the best prices
To conclude this section on helmets, here are a few examples of the helmets available from the DriftShop online store. From the lowest price to the most sophisticated, you're sure to find the right product for your use and your requirements.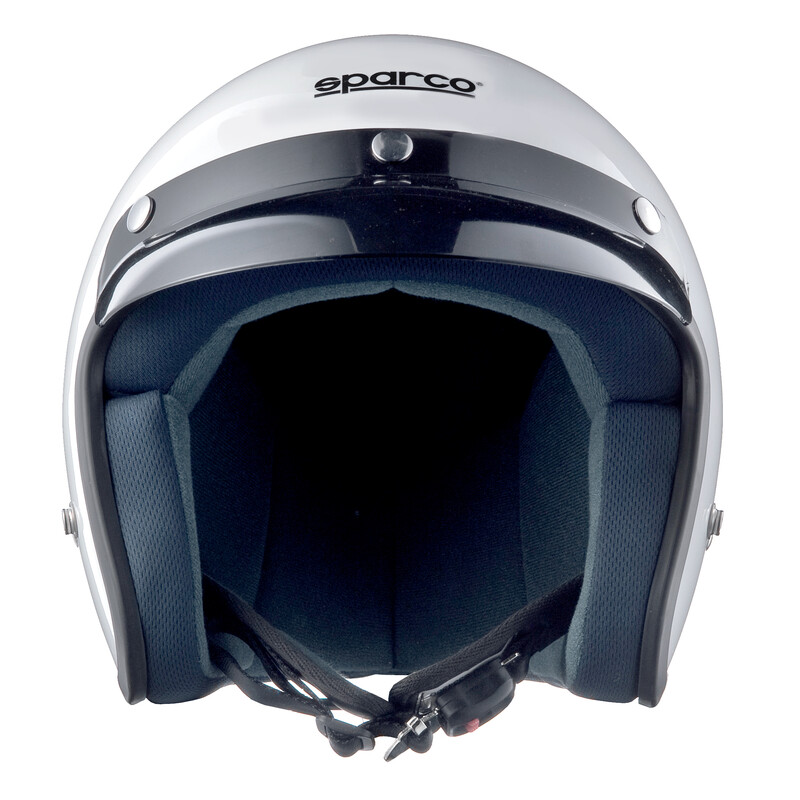 For more information on this subject, we invite you to consult the following blog article: "All you need to know about car helmets".
2. Gloves: a second skin
Gentleman drivers and racing drivers used to wear leather gloves or mittens to drive their cars, but today's technology has evolved to provide ever greater protection and lightness. An essential piece of equipment for motor sport, but also far from useless for recreational driving.
Uses and composition of gloves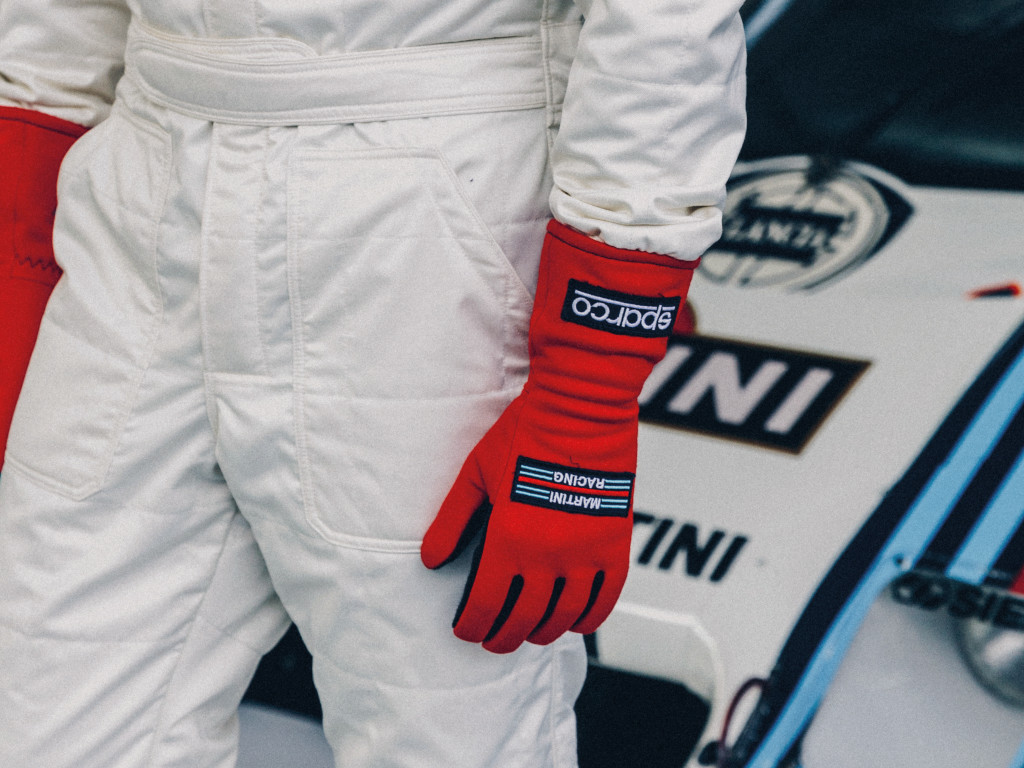 Gloves offer the driver or co-driver protection against flying glass and flames. They are usually made from jersey or aramid fibre, which provides excellent thermal insulation as well as high fire resistance. The palm is made of silicone or suede to ensure a perfect grip on the steering wheel and promote sensitivity. The reinforcements or padding provide extra protection and absorb vibrations. They can be tightened with Velcro or elastic, depending on the model.
On entry-level and mid-range gloves, the seams are generally on the inside, which has the advantage of not affecting the overall design. However, this choice of design can lead to chafing and a loss of comfort in use. Higher-end gloves have external seams to avoid these problems. What's more, they offer a more natural feel on the steering wheel. There are also gloves with both internal and external seams.
Some racing or rally gloves have preformed curves that can reduce the feeling of fatigue when worn for long periods. Some models are also compatible with touch screens, thanks to a special choice of material for the fingertips. Manufacturers are adapting to new uses and technology in order to provide an ever closer link between the driver and the vehicle.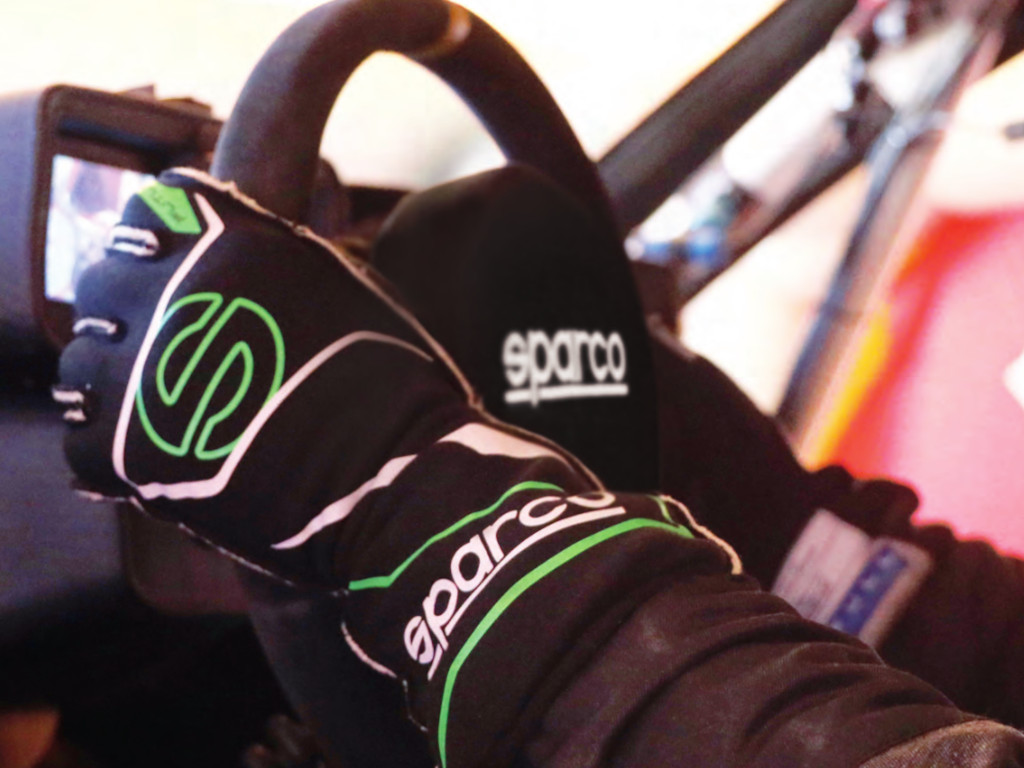 On another front, some manufacturers who are concerned about the new energy challenges are offering gloves manufactured in an eco-responsible way. The Sparco Futura range uses a majority of recycled fibres to limit the manufacturer's impact on the environment.
How to choose your gloves?
While there are leather and wool driving gloves, we will focus here solely on FIA-approved racing gloves. These have labels sewn or printed on the outside of the glove, at wrist level, providing information about compliance with a given standard.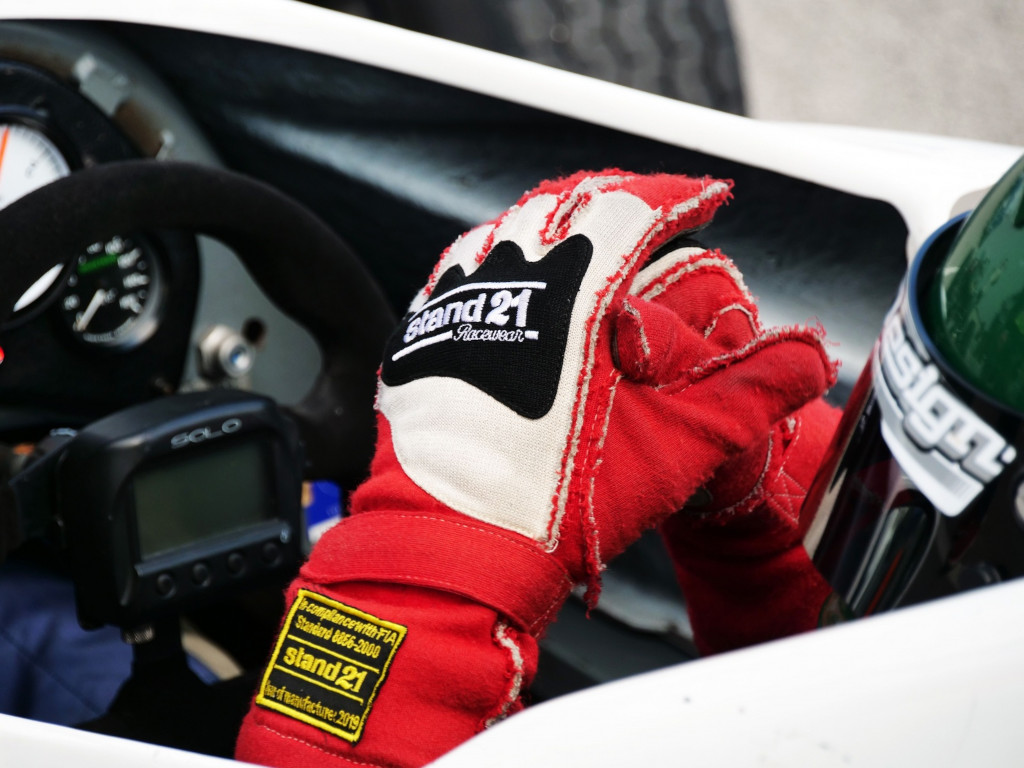 Your choice of gloves will depend primarily on the type of event you are going to take part in. For example, if you are planning to enter endurance races, it will be useful to opt for gloves that will remain comfortable over time, whereas this criterion will be less decisive when you are taking part in sprint races.
To buy gloves in the right size, it's important to measure the circumference of the palm of your strongest hand (the right hand if you're right-handed). This is measured using a tape measure. To do this, take the inside of your palm, but not including your thumb, and fold your hand over to take the measurement. The measurement taken in centimetres must be divided by 2.54 to correspond to the glove size, which is established in English inches, or you can refer to a conversion table:

Gloves at the best prices
Here are a few pairs of gloves suitable for a wide range of motorsport competitions: rallying, circuit racing, hillclimbing, drifting, etc. With a wide range of prices, the DriftShop line is sure to meet your expectations and budget.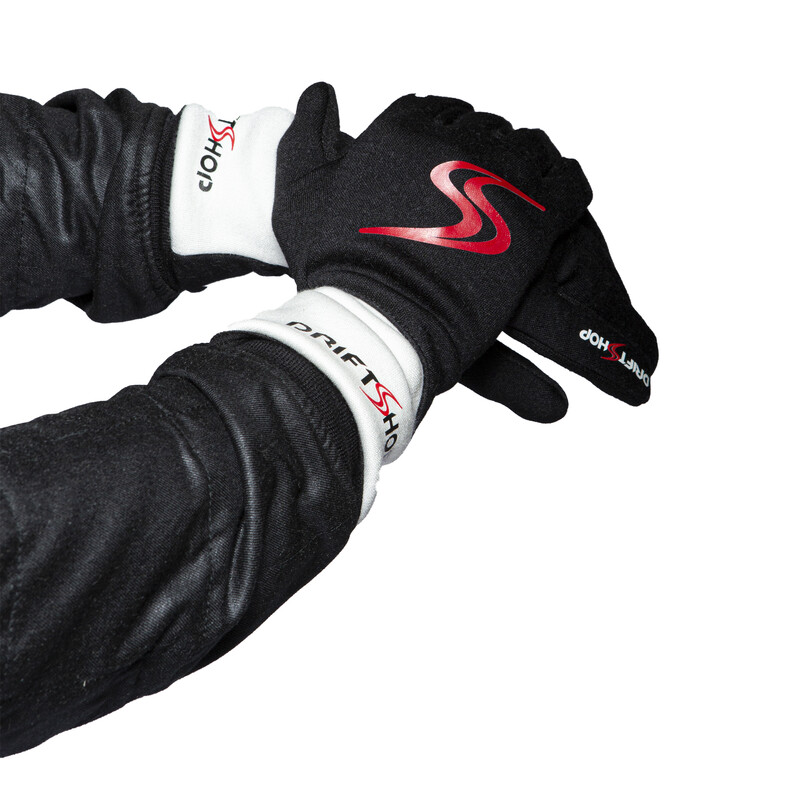 3. Shoes: the quest for precision
While there are fans of tasselled loafers for driving, it's fair to say that it's hard to match real racing shoes when it comes to protection and precision. Specifically designed for performance, these shoes have a number of features that set them apart from other conventional footwear.
Uses and composition of shoes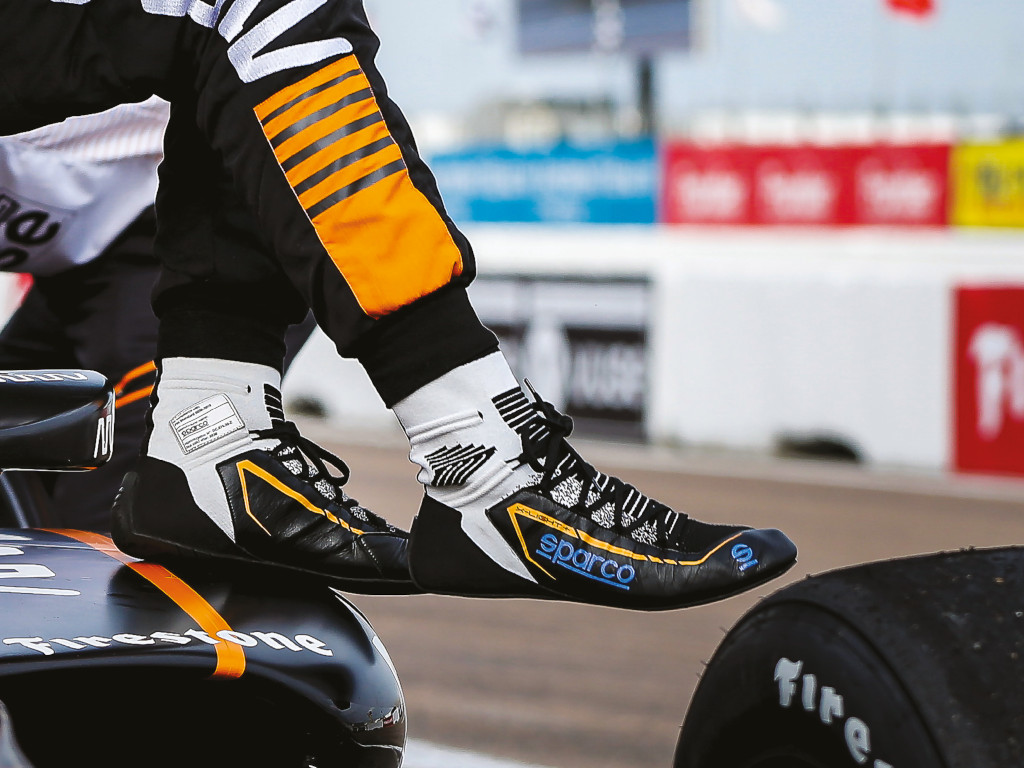 Like all racewear, shoes must first and foremost provide fire protection and thermal insulation, as part of FIA approval. Their role is also to enhance pedal feel, provide speed of movement and flexibility, and limit stress and fatigue. So it's a good idea to equip yourself with this type of shoe for motor sport, of course, but also for track days.
Rallye shoes come in a variety of shapes, from low-cut for greater freedom of movement to high-cut for better ankle support. The upper part of the shoe is usually made of leather, suede or fabric, combining lightness, flexibility and abrasion resistance.
In general, the lining of shoes is breathable and anti-transpirant to provide good ventilation for the feet. The soles are thin and narrow to enhance driving comfort and the sensitivity of the ball of the foot. Lightweight and often pre-shaped for greater comfort and superior support, the insole can be made from leather, rubber or carbon at the top end of the range. The outsole is non-slip to ensure perfect grip on the pedals and, often made of rubber, must be able to withstand hydrocarbons.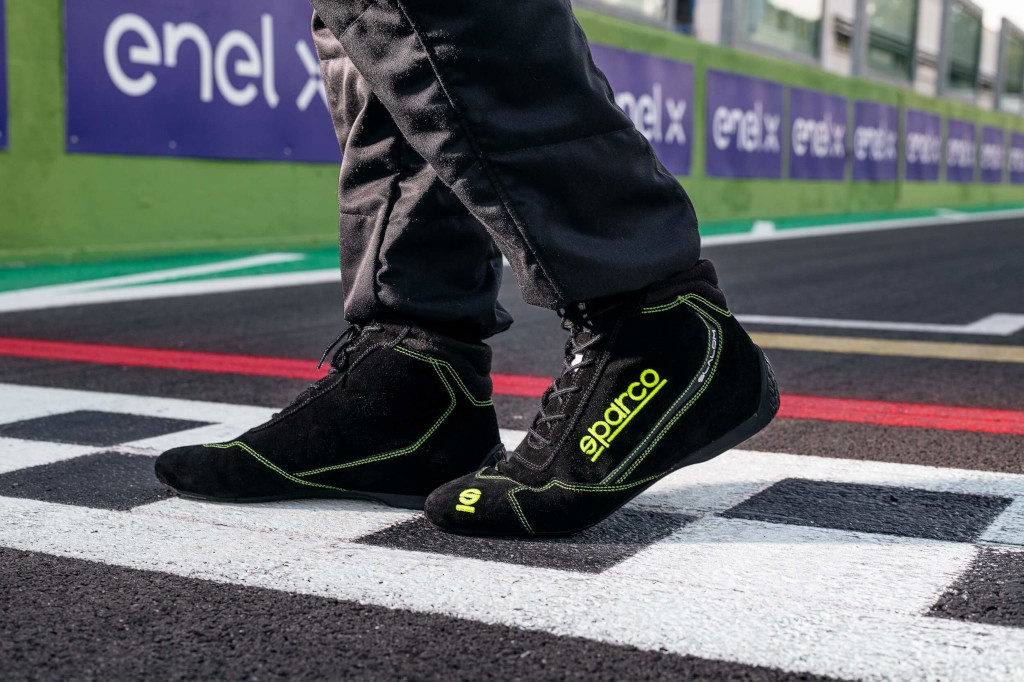 Typically, the heel area is reinforced to limit abrasion and, on the most elaborate models, benefits from anti-shock and anti-vibration properties for excellent comfort even during long driving sessions. The shoes are usually fastened with laces and velcro, but there are also models with a quick lacing system that can be tightened by turning a knob, like some sports shoes.
How to choose your shoes?
Because the world of motor sport is so vast, there are many shoes designed for a particular discipline, from F1 to rallying, VHC and so on. Some will be high or low, with models that are lighter, softer or thinner than others. It's up to you to decide which type of shoe best suits your needs. FIA-approved shoes can be identified by the label sewn onto the outside of the tongue, or at the top of the side for models without a tongue.
To find out your shoe size, the unit of which is the Paris point in France, first measure the length of one foot in cm, add 1 and divide by 2/3. If your shoe size is half a size (42.5, for example) and the manufacturer does not supply shoes in your exact size, it is generally advisable to take the next size up. The same applies if you're not sure which size to choose.
Note: the so-called "European" size, which covers Italy, Germany and Spain, is one size smaller than the French size. For example, a French size 42 is equivalent to a European size 41. Depending on the standard used by the manufacturer, this detail will need to be taken into account.
Shoes at the best prices
To help you find the racing shoes that are right for you, here are some of the models available from the DriftShop online store. From entry-level to top-of-the-range, this selection will give you an idea of the line available on our site.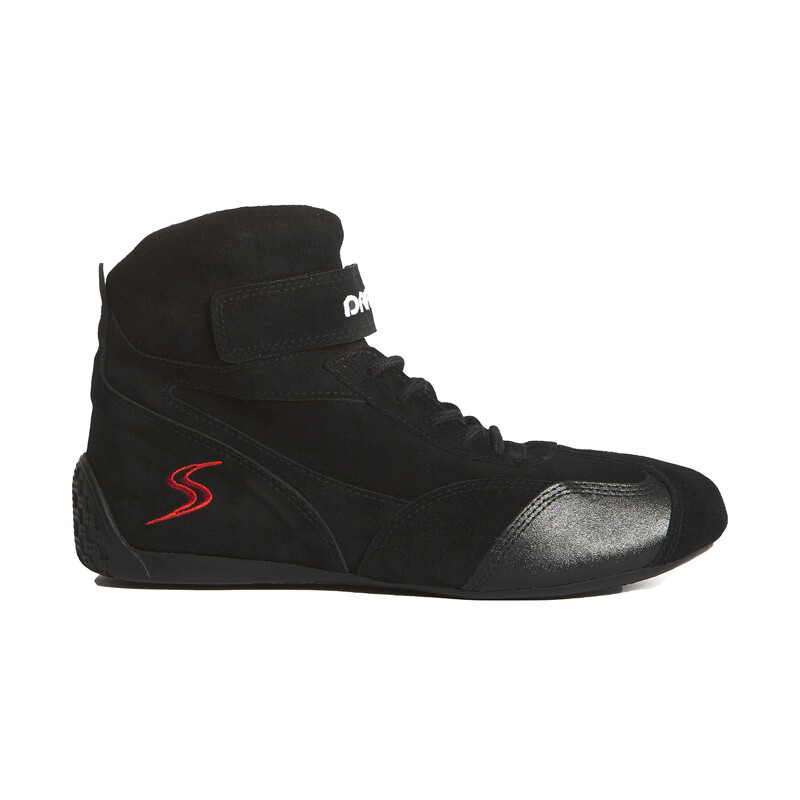 Please note that we do not go into detail about the existing standards in this article, as they change regularly and are likely to be obsolete by the time you read this. For more information on the standards currently in force and their periods of validity, please visit the FIA (www.fia.com) or FFSA (www.ffsa.org) websites.
If you'd like to try out some racewear before you buy, and get some personalised advice, feel free to visit the DriftShop showroom in Berrwiller (Haut-Rhin, France).
Photo sources: Drift Masters European Championship / Sparco / Motorsport.com / Liebaut Allan / Ferrari