The steering wheel is a major component of the steering mechanism and is the driver's first link to the vehicle. This importance therefore deserves special attention when you want to modify your car for motorsport. In addition to changing the appearance of your car's interior, replacing a standard steering wheel with another one can considerably modify your driving position, drastically transform your driving sensations, and even improve your performance.
Summary:
1. Sport steering wheel: special features
In many ways, a sports or racing steering wheel differs from the wheel of an everyday car. Where one will focus on comfort and safety, the other will be distinguished in particular by its reduced weight and sobriety of equipment. Unlike most modern steering wheels, circuit and rally wheels have no airbags and no multimedia controls.
Depending on the discipline, they can nevertheless combine certain useful commands for the driver. In the WRC, GT3 or WTCR for example, the steering wheels are custom made and equipped with brackets featuring buttons and knobs which allow equipment or functions to be activated (headlights, windscreen wipers, radio, indicators, etc.) or to adjust certain parameters (engine map, differentials, etc.).
In general, an aftermarket steering wheel is chosen on the basis of several criteria, which we will discuss below.
Size
One of the first things to look for when buying a sport steering wheel is its size, especially its diameter. Most often, it is between 300 and 400 mm. Below that, they are usually reserved for single-seaters. Above that, they are too large and can hinder the driver's movements.
A smaller diameter steering wheel may be more convenient for getting in and out of the vehicle, and will allow more legroom for a more comfortable driving position. However, for cars without power steering, a smaller than stock steering wheel will require more energy when manoeuvring and conversely a larger model will result in lighter steering.
In general, sports and racing steering wheels are smaller than those used in everyday cars. This allows the driver to act more quickly on the wheel, especially as the steering ratio is often adjusted accordingly to make the handling more lively.
Shape
Most sport and racing wheels have two, three or four spokes and a thicker or thinner hoop. The horn button, if present, is usually small and rounded. The choice of a steering wheel is personal, but there are certain design features depending on the discipline and type of driving. Here are some examples:
For grip driving, a steering wheel with notches and bulges is usually preferred to facilitate handholding. The steering wheel can be equipped with a bottom or top flat to provide legroom and improve visibility.
For drifting, a round steering wheel with regular contours will often be chosen so that the driver can manipulate it quickly from lock to lock. This will allow the driver to slide the wheel easily between his hands during sudden changes of direction, for example.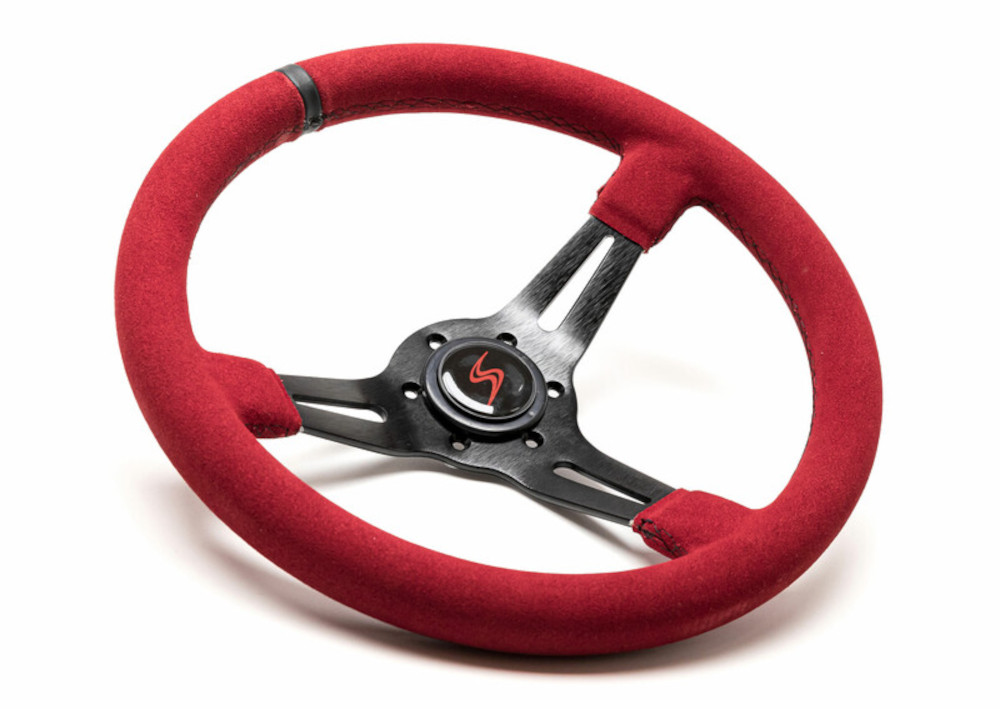 Many sports and racing steering wheels also have one or more coloured stripes on the top. This mark is very useful when making large, fast turns with successive steering and countersteering, as it allows you to keep an eye on the position of the wheel in relation to the tyres.
Material
A steering wheel is made of several materials. Sport models are generally designed around a lightweight frame of steel, aluminium or magnesium. The spokes must be strong so that they cannot be bent by the force of the arms and thus withstand all the stresses of the driver. These spokes can be finished in raw, matt, polished or chrome.
The cover also differs greatly depending on the steering wheel. Each material offers its own grip quality, requires special care and has a longer or shorter life span. The cover will also have a direct impact on the price of the wheel.
Leather, which can be smooth or perforated, is very durable and requires simple periodic care. It is pleasing to the eye and comfortable to the touch, and is very popular in the interiors of street cars. Suede or Alcantara is very popular in racing because it provides the best grip. On the other hand, it gets dirty quickly and requires special care. It is ideal with gloves.
Plastic or polyurethane is the most affordable. Suitable for tight budgets, it has a lesser grip and a less flattering appearance than other materials. Wood is ideal for blending into the interior of vintage vehicles. Logically, it is often found in historic rallies. It can be made of walnut, oak, birch and some exotic woods such as mahogany.
Finally, there are rarer products made from other materials, such as the very expensive carbon steering wheel. The circle, the spokes or the entire steering wheel can thus be made of carbon fiber, a particularly light composite.
2. The essential dished steering wheel
Definition of dish
It is impossible to talk about sports steering wheels without mentioning dished steering wheels! The dish is the depth of the steering wheel. This value is obtained by measuring the distance between the steering wheel/hub contact plane and the circle. This value can be only a few millimetres or more than 90 mm. If the dish is 0, the steering wheel is flat.
This value is important to consider because many vehicles do not offer steering wheel depth adjustment. By adding dish, the driver can vary his driving position. For example, with a flat steering wheel or one with a small dish value, the driver may, depending on his size, find himself with his knees touching the wheel and suffering from an uncomfortable posture. A dished model can be a solution to this problem.
Pros and cons
One of the special features of a dished steering wheel is that it offers a very racing design. With its concave spokes, it is unrivalled in radicalising the interior. The design of these steering wheels is very distinctive and may or may not appeal, but it leaves no one indifferent.
A high dish value makes it possible to bring the steering wheel closer to the driver. A pro or a con depending on the size of the occupant. There are also spacers that further reduce the distance between the steering wheel and the driver.
A deep dished steering wheel is very popular in disciplines such as drifting. The dish keeps the fingers away from the steering wheel spokes. When the driver lets go of the steering wheel in the middle of a drift and lets it slide between his hands, there is no risk of hurting his fingers.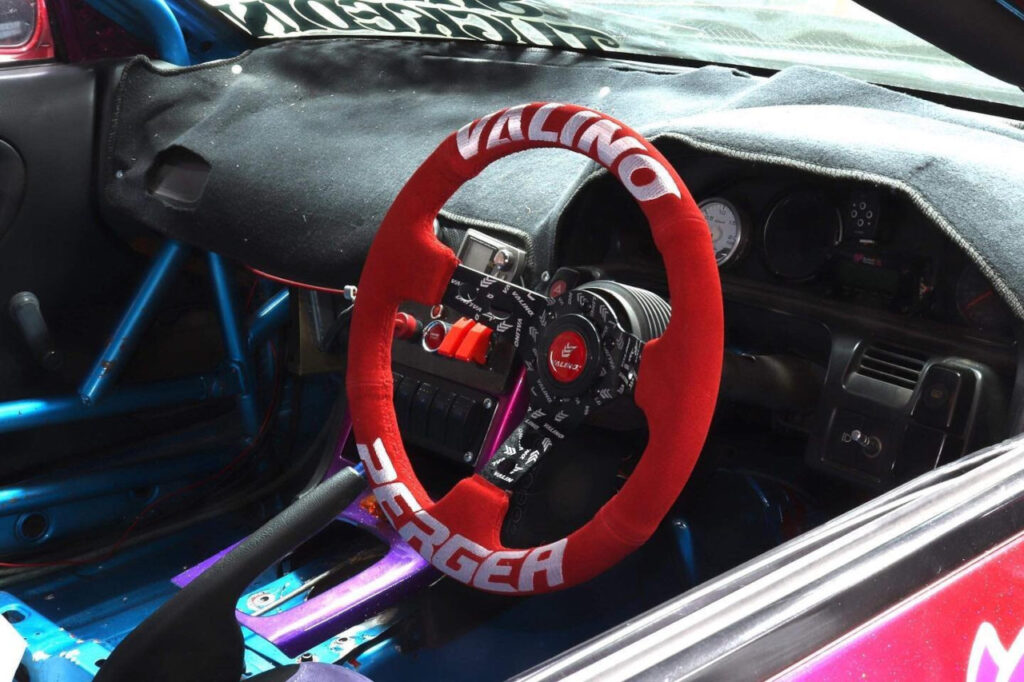 However, as this type of steering wheel brings the driver closer to it, it also moves the controls mounted on the steering column further away. This is an advantage if you tend to accidentally activate them by turning the wheel, but a disadvantage for everyday driving. Fortunately, there are turn signals extensions which can solve this problem.
Momo's early days
In 1964, Gianpiero Moretti, an Italian racing driver, decided to design a custom-made racing wheel with more grip than the competition. That year, he founded the Momo company (short for Moretti Monza) and started production of this first steering wheel, which quickly attracted the interest of many drivers, including John Surtees. Surtees won the F1 World Championship that season in a Ferrari equipped with the Moretti steering wheel.
Initially focused on motorsport, Momo gradually diversified its activity in the 1970s by offering alloy wheels and steering wheels for street cars. The company became an original equipment manufacturer for Ferrari, then for other major European and Japanese brands. Nevertheless, the company continued to enjoy success in racing, particularly in F1. Niki Lauda, Jackie Stewart, Ayrton Senna, Nelson Piquet and Michael Schumacher were among the drivers who partnered with the brand.
Today, Momo continues to produce sports equipment for the streets or racing and stands out from the competition with its taste for innovation. In particular, we owe him the first collapsible steering wheel hub in the event of an impact.
The flagship models
Below are some examples of the manufacturer's iconic steering wheels: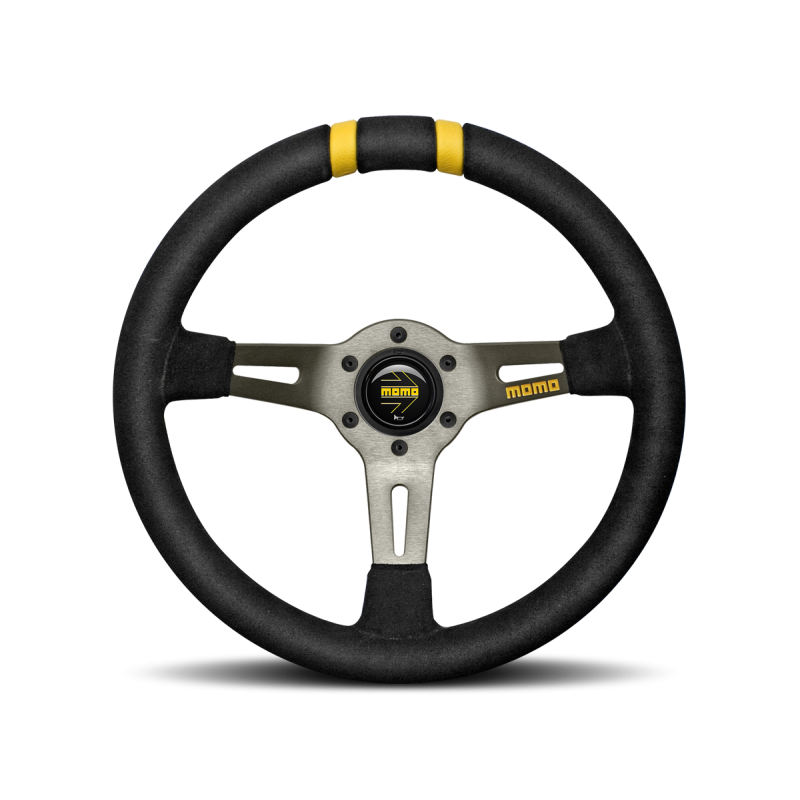 MOD. Drift: As the name suggests, this steering wheel is ideal for drifting, with its 88 mm deep dish. The steering wheel has a diameter of 330 mm and is covered in black leather with two yellow marker strips. Finger notches on the back of the wheel ensure perfect control.
MOD. 31: A flat steering wheel with a simple design available in two diameters (320 or 340 mm). This true racing wheel has a solid centre section that requires custom drilling to fit the vehicle's steering column, hub or quick release.
Tuner: A best-selling sports steering wheel available in 320 or 350 mm, with black leather, anthracite or black brushed spokes, and red or black stitching. Ideal on the streets as well as on the circuit, it was notably fitted in the very exclusive Honda NSX-R as standard.
Montecarlo: Inspired by the manufacturer's Gran Turismo racing wheel, the Montecarlo is a classic offered in 320 or 350 mm diameter. Standard on many vehicles, it's a great fit for almost any interior.
Prototipo Heritage: Perfect for vintage sedans and GTs, this 39 mm dished steering wheel with a diameter of 350 mm has a beautiful aged black leather finish and white stitching. The spokes are available in brushed aluminium or black anodised.
Grand Prix: From the Heritage range, this stylish 350 mm steering wheel is covered in mahogany wood with a matte walnut finish. The three brushed aluminum spokes are pierced with small holes to reduce the weight of the wheel.
Note that these products have a Momo type hole layout (shared with Sparco, OMP, RRS…) and require a wheel hub adapted to the PCD and bolt pattern of the steering wheel.
The origins of Nardi
Enrico Nardi, Italian racing driver and car designer, began designing cars in 1921 and then worked for Vincenzo Lancia as an engine builder and engineer. In 1937, he became a test driver for Enzo Ferrari and then a business consultant for the manufacturer. In the 1940s, he joined forces with racing driver Renato Danese and founded the ND company in Turin to produce racing cars and prototypes. The original Nardi Bisiluro of 1954, which raced in the 24 hours of Le Mans, was one of his creations. Towards the end of the 1950s, he returned to Ferrari. All the cars of the prancing horse brand adopted a Nardi steering wheel from 1959 to 1964.
Known for their quality of manufacture, design and comfort, Nardi steering wheels historically featured a three-spoke aluminium frame and mahogany wood covering. Over time, the company offered a variety of designs and borrowed different types of materials such as solid, perforated leather or suede. Now, the company also manufactures other products for car interiors such as knobs, gaiters, PCD converters, hubs, etc.
Iconic models
Below are some examples of the manufacturer's must-have steering wheels:
Classic: The brand's most emblematic steering wheel featuring three slotted spokes for elegance and lightness and the illustrious E.Nardi signature engraved on the right. Available in diameters from 330 to 390 mm with dish values from 25 to 45 mm, it is offered in various colours and finishes.
Competition: Ideal for racing, this 330 mm steering wheel with a 40 mm dish is available in three different versions: black suede, black spokes and red stitching, perforated black leather, black spokes and gray stitching, or perforated black leather, aluminium spokes and gray stitching.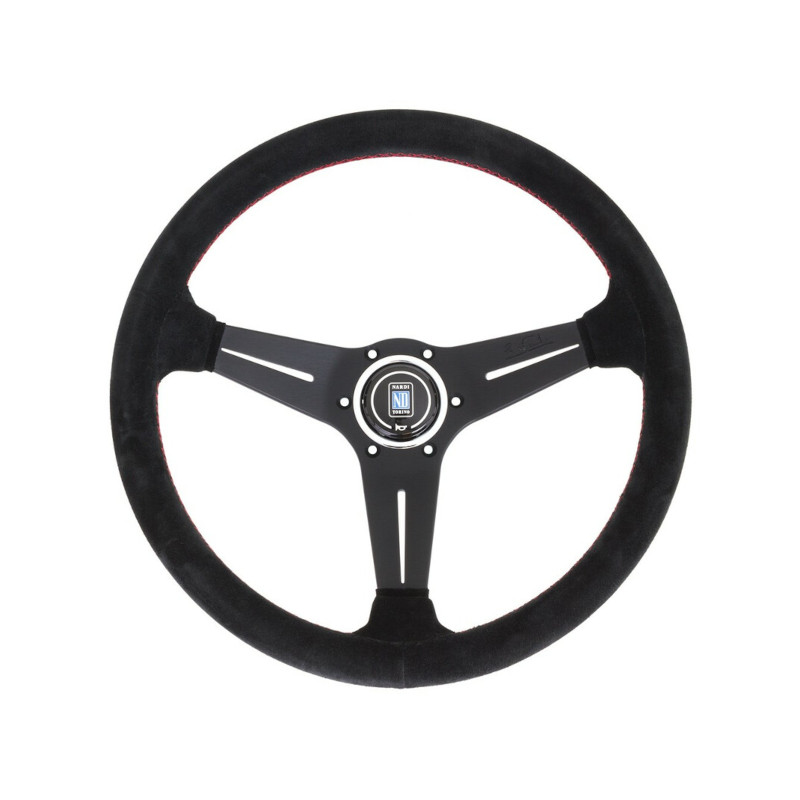 Deep Corn: This is a Classic model with a deeper dish, ranging from 50 to 80 mm. With a diameter of 330 or 350 mm, it is, like the Classic, available in many versions. It is of course ideal for drift cars.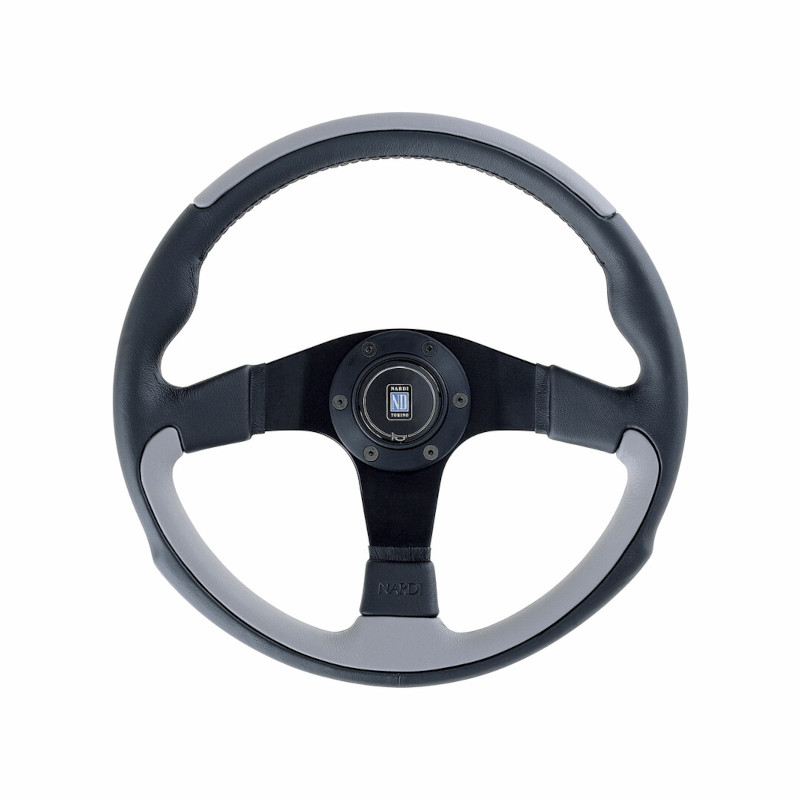 Leader: This flat steering wheel is perfect for road use or for grip driving on circuit. With its 350 mm medium diameter, it fits most passenger cars without any problems. One of its strengths is that it is available in different colours for the top and bottom part.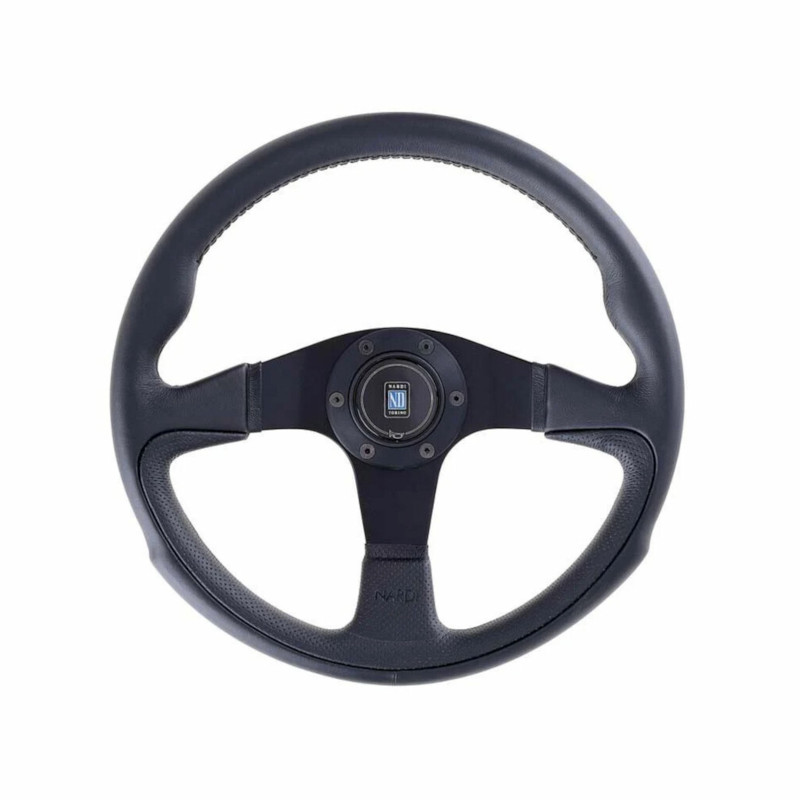 Challenge: Aesthetically very similar to the Leader, the Challenge has the same 350 mm diameter but is distinguished by its 45 mm dish. This sporty steering wheel with thumb recesses is available in black, blue or red leather.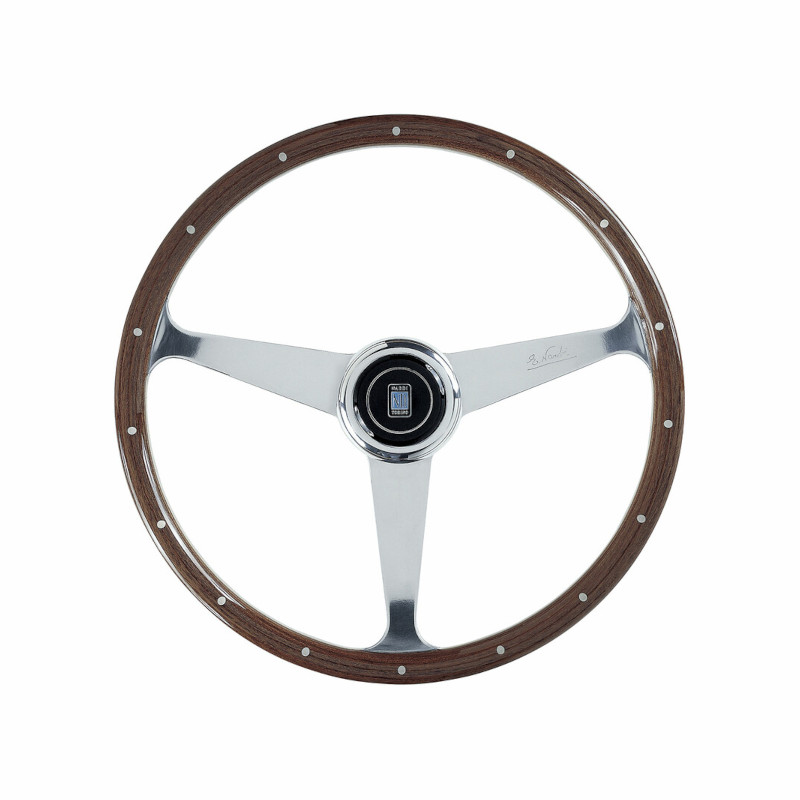 Anni '50: This luxurious 380 mm diameter model features a retro design with chrome spokes and a mahogany wood covering decorated with rivets. An expensive steering wheel that will go perfectly with a classic sports car.
Note that these products have a Nardi type hole layout (shared with Personal) and require a wheel hub adapted to the PCD and bolt pattern of the steering wheel.
Photo sources: Nissan / Volkswagen / Subaru / Sparco / DriftShop / DND / Toyota / Ford / Valino / Momo / Nardi