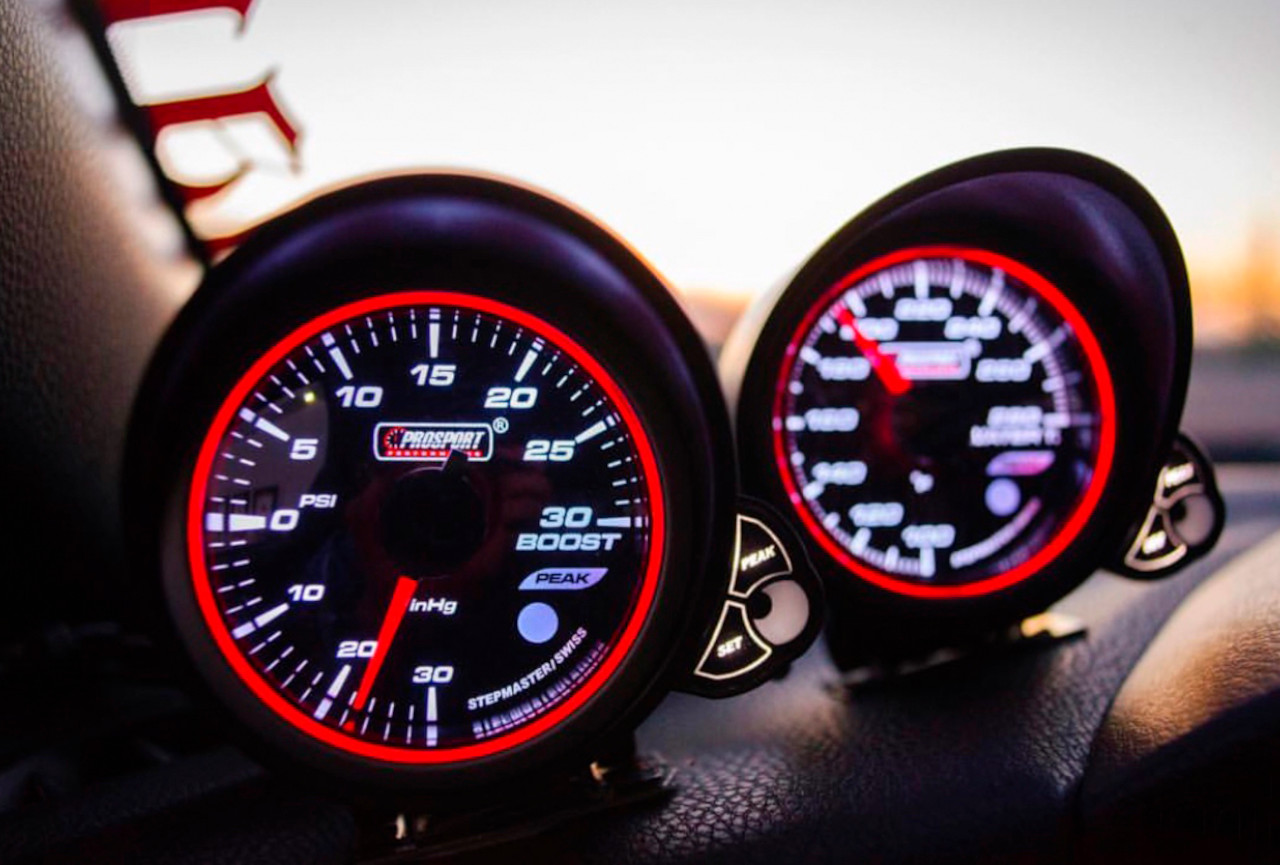 When using a vehicle tuned for competition, it is crucial to keep an eye on the health of the engine so that you can exploit it to the full without fear of breakage. To do this, you need gauges, which can be used to check, for example, water and oil temperature, or oil and boost pressure. In this article, we'll be looking at ProSport gauges for rallying and circuit racing, a brand that has been offering excellent value for money solutions for over 20 years.
Summary:
1. ProSport, the leading brand for performance gauges
High-performance automotive instrumentation is a buoyant market, with demand for gauges and other measuring equipment for engine control being very high in the tuning and racing sectors. So how did the ProSport brand come into being, what advantages does it have over the competition, and what quality can we expect from its products? That's what we're going to find out in this chapter.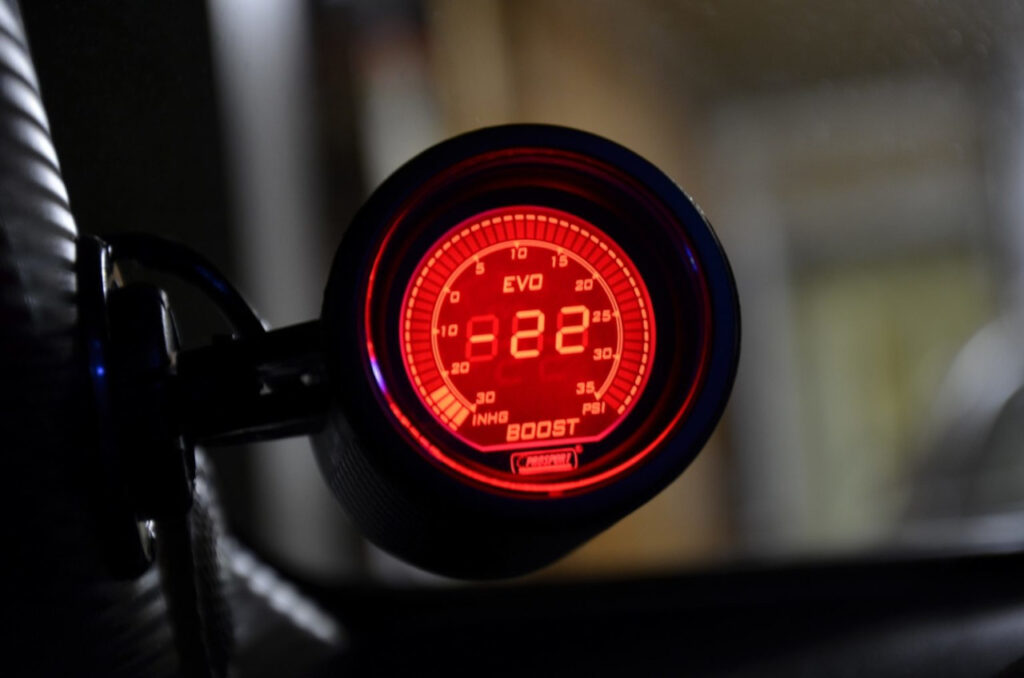 A well-established brand
ProSport is a brand established in Taiwan since 2003, with solid experience in the manufacture of car gauges as an original equipment manufacturer and an original concept manufacturer (private label products). Driven by the concept of "visible speed", the company's employees strive to create instruments that are immediately readable, so that drivers have the information they need as quickly as possible.
ProSport also aims to combine the best of Asian trends with American design. And this is no coincidence, as the United States is one of the most important markets for the brand, which enjoys great popularity in this territory thanks to its main distributor based in Florida, who has been present for years at the famous SEMA Show to present their range and latest products. In all, ProSport sells its products in over 75 countries, including Canada, Germany, Sweden, the UK and Japan.
This success has led Prosport to evolve and expand its catalogue over time. While its core business remains instrumentation, it now offers heat reducing products, oil catch tanks, stainless steel exhaust parts and other accessories for tuning and motorsport.
ProSport strengths
If ProSport has succeeded in finding a place of choice in the highly competitive American market, it's because the brand's products stand out in a number of positive ways. Firstly, they are aggressively priced, attracting enthusiasts who can't afford to spend a lot of money on this type of instrument. These low prices are the result of word of mouth. At ProSport, there are no advertising or sponsorship campaigns (the costs of which are inevitably passed on to the products), and these savings are passed on to customers, who buy at the best price.
Of course, quality is also one of the strong points of ProSport products. What's the point of paying a good price for something that isn't reliable? Even on entry-level products, the design is very meticulous. The build quality is high, the stepper motors are powerful, the sweep is wide for easy reading and the functions are very useful (recording peak values and alerts, among others). Easy to set up, they don't need a remote control, as everything is built directly into the gauges.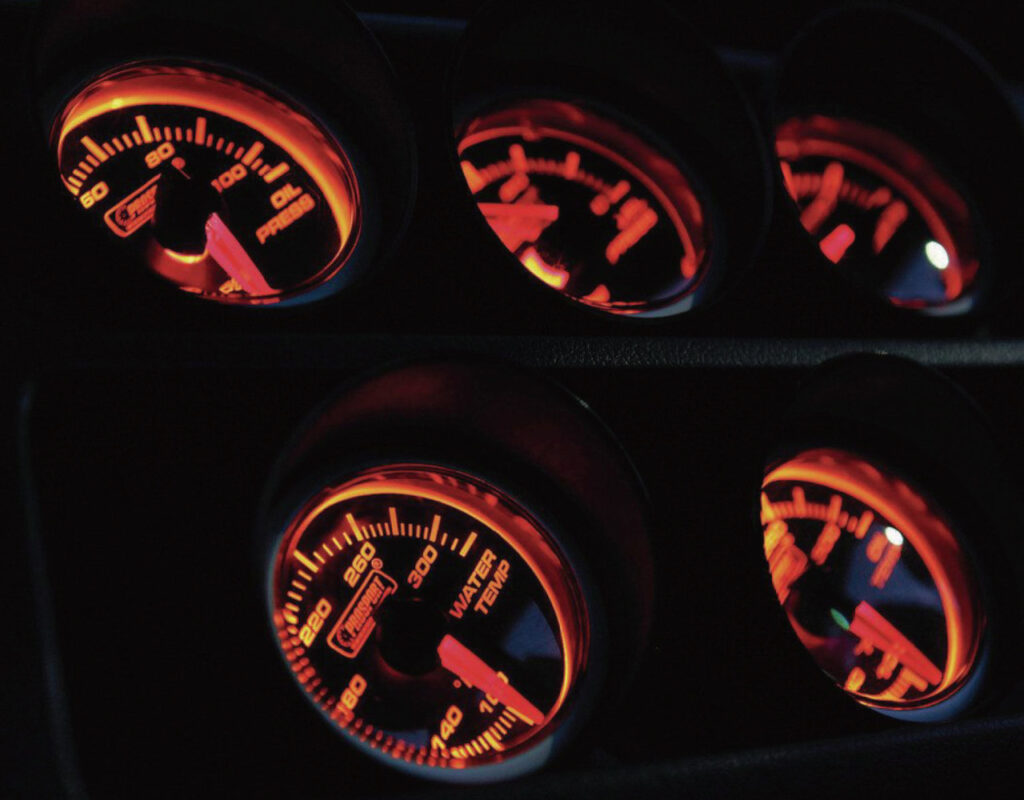 The brand's catalogue also offers a wide range of products to suit most uses and tastes. Whether you're a fan of sobriety or a fan of colourful, high-tech gauges, ProSport has the right product to suit your needs. What's more, the company sells its own sensors (exhaust gas temperature, oil pressure, boost pressure, etc.) to simplify installation of the gauges, as well as brackets and caps to help them blend in perfectly with your car's interior.
Innovation is not forgotten at ProSport, as the company can count on a highly committed research and development team to stay at the cutting edge of technology. For example, the Evo range won 4 awards at the SEMA Show in 2010: it was the first truly two-colour digital gauge on the market, offering users the choice of switching from red to blue and vice versa at will.
2. ProSport gauges, perfect for rallying and racing
Installing a ProSport gauge in a stock vehicle can have its benefits, but the most common use for these instruments is in cars tuned for recreational use, track days or competition, whether in rallying, drifting, hill climbing, and so on. We'll look at the benefits of this equipment below, and also at which type of technology you should choose, depending on your needs.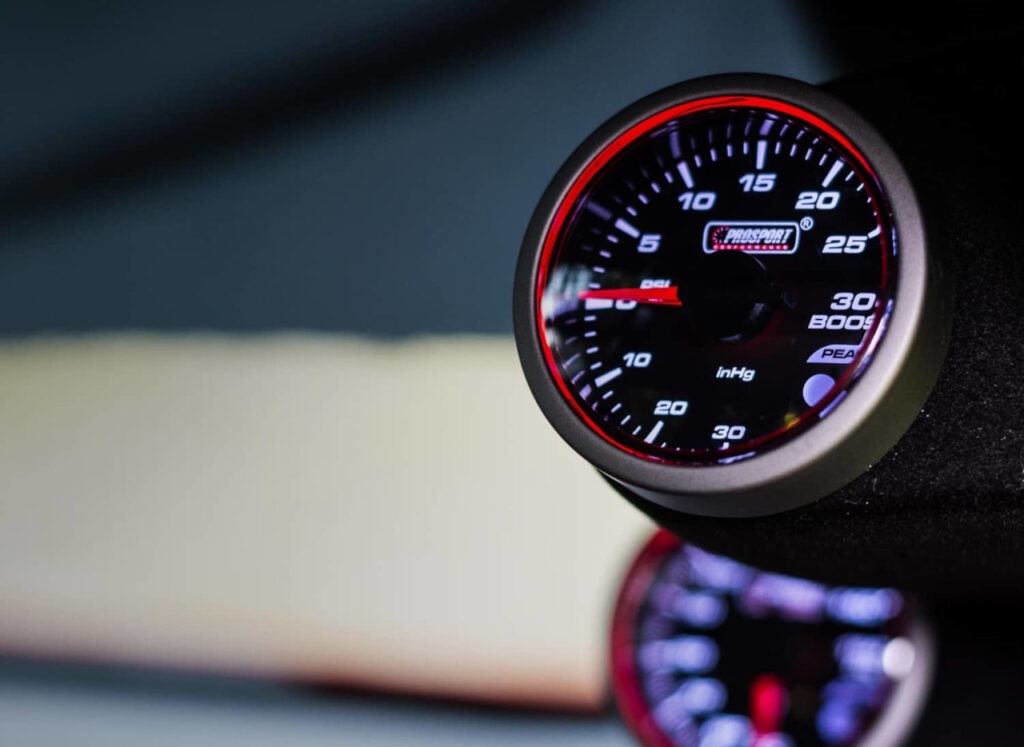 Use and function of gauges
An aftermarket gauge is used when this type of device is not fitted as standard in the vehicle's cabin or, where necessary, to provide more precise measurements or additional functions (visual and audible alarms, etc.). These instruments often require dedicated locations, but many equipment manufacturers such as ProSport offer brackets for sale to facilitate their integration into the vehicle, for example on a pillar, above the centre console, or in place of a car radio.
The list of physical quantities that gauges are capable of measuring is very long: boost pressure, exhaust gas temperature, fuel pressure, electrical voltage, air/fuel ratio, oil temperature, etc. There are specialised gauges capable of measuring a single quantity, or combined instruments that can measure several, which are very practical for keeping the passenger compartment free of clutter.
Designed to be as accurate and legible as possible, performance gauges can feature a variety of displays. For example, the display can be analog (typically a numbered dial swept by a pointer) or digital (numbers or letters on a 7-segment display, sometimes with LED graduation), or both. Information is presented in metric or imperial format. Most have backlighting, sometimes with a choice of colours, to ensure perfect visibility in all lighting conditions.
Types of movements
Like watches, gauges are built using different types of movement. ProSport instruments use three types of movement:
Stepper motor
Air core
Mechanical system
The electronic stepper motor is the most advanced available, offering the ultimate in precision, responsiveness, versatility and durability. Each instrument is controlled by a microprocessor, which allows extremely fast calculations and many unique functions (alarm, recall, etc.). Every time the gauge is switched on, it is calibrated to zero to guarantee the same accuracy as the day it was manufactured. ProSport uses Swiss and Japanese motors depending on its range.
Robust and affordable, air core technology is ideal for street and moderate racing applications. It consists of a small magnetic core surrounded by a copper coil that fluctuates according to the voltage it senses. As the temperature or pressure changes, the device measures the resistance, so the voltage sensed by the core also changes and the needle indicates the correct value on the dial.
The main advantage of a mechanical pressure gauge is that it does not need to be connected to the vehicle's electrical system to operate. It is connected directly to the engine and is always on, which can be very useful during a race when the car is stopped in the pits. The mechanical gauge is very accurate and offers a full sweep of the dial, but can be considered more fragile than the other two types of movement.
3. The various ProSport gauge ranges
The ProSport brand groups its products into two distinct ranges, each with its own characteristics. From the simplest gauge to the most elaborate, from the lowest price to the most expensive, from the most discreet to the most flashy, let's discover together the different models of ProSport instruments to take care of your engine and make the most of the data displayed.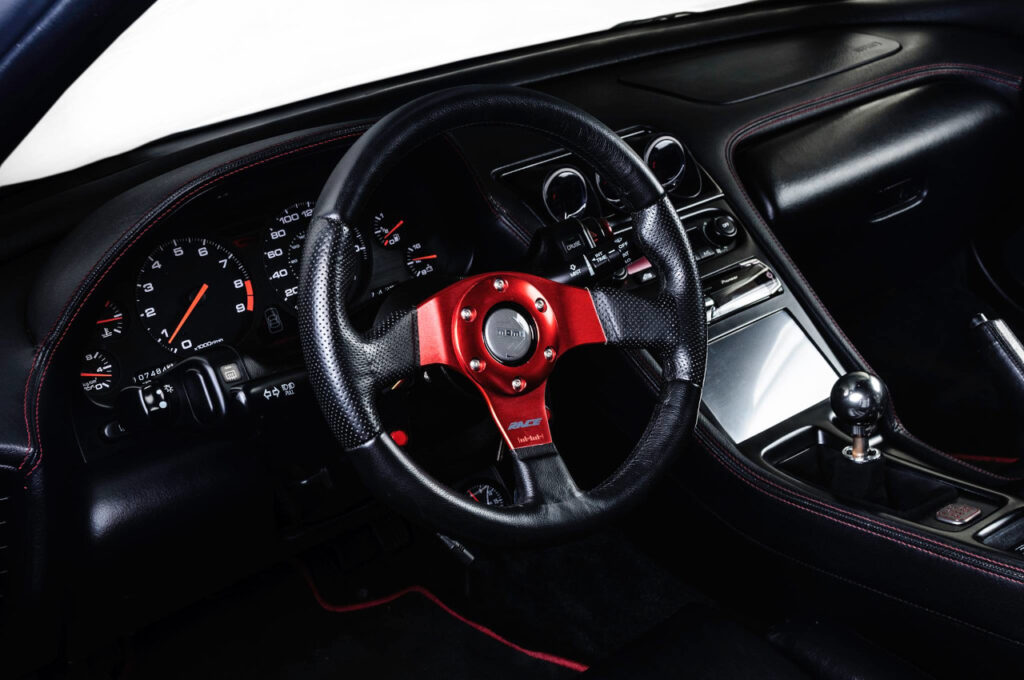 Premium range
ProSport Premium range stands out for its peak and warning functions, as well as its plug & play power supply (several gauges can be powered via the daisy chain principle) and its ready-to-use harnesses of over 2 metres for the senders. The auxiliary sensors are watertight and all the gauges are supplied with mounting cups. The Premium range currently comprises the following models: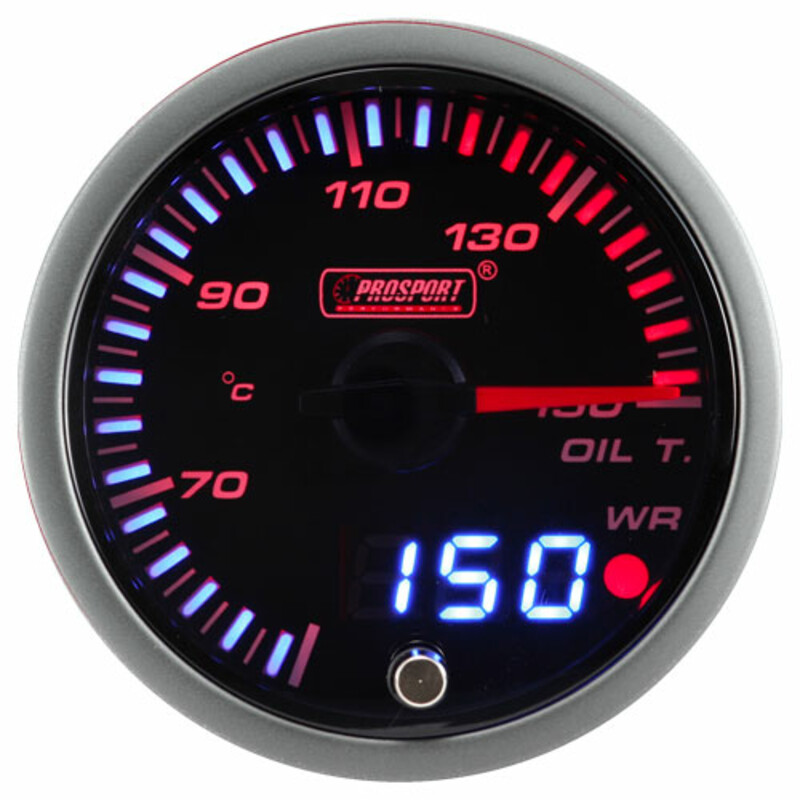 The JDM (Japanese Dual Movement) gauges are the fastest and most responsive in the ProSport range, thanks to a Japanese stepper motor that's as quick as it is quiet. These two-tone white and amber instruments combine an analog display (pointer) with a digital display (value) for total clarity. The graduation is backlit by LEDs that light up progressively as the needle moves. Particularly shallow, these gauges are easy to install.
The Evo series offers a choice of 4 backlight colours (red, blue, green, white) in a single gauge. Each instrument also includes 7 stages of dimming control for comfortable day and night use. Like the JDMs, they are easy to program for peak and warning functions, and benefit from a shallow design.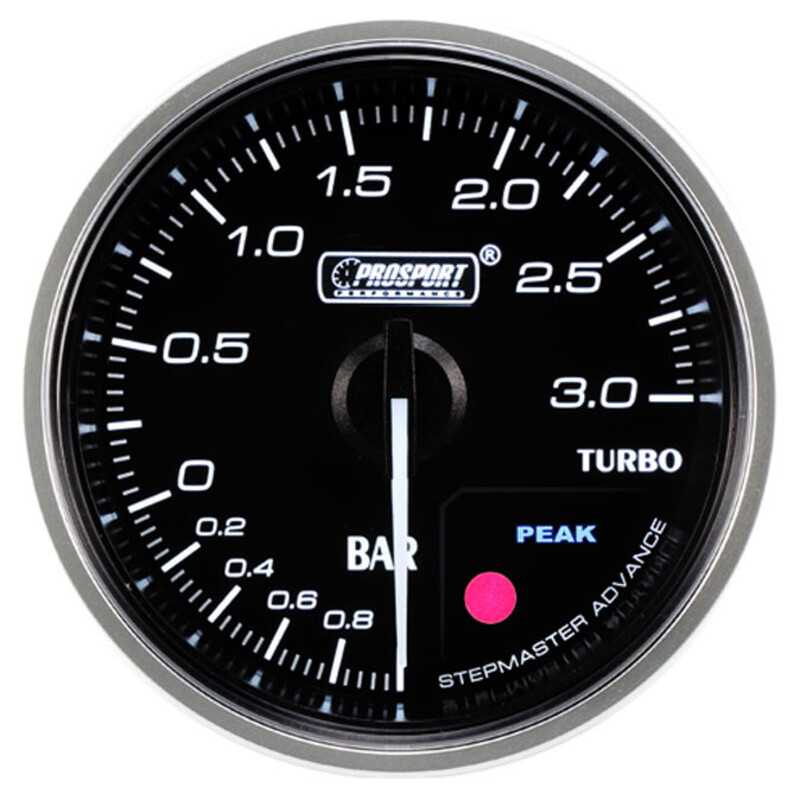 Supreme products feature a black display and white or amber backlighting, and are distinguished by their hand-polished aluminium bezel. This top-of-the-range finish is complemented by a waterproof design that makes these gauges suitable for use in wet environments. The traditional built-in peak and warning functions are of course also included.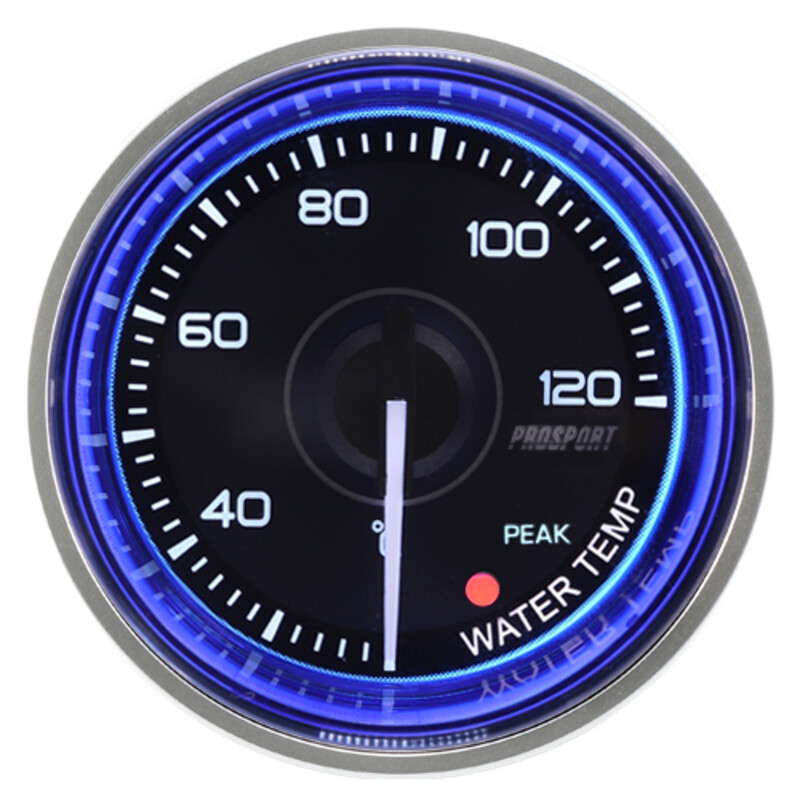 Very similar in design to the Supreme series, the Crystal gauges take up these characteristics and add a striking blue halo ring of light that adorns the edge of the dial. It's an original design that's sure to be a hit in the interior of street cars in particular. It also offers 6 stages of dimming adjustment.
Performance range
Products in the Performance range use one single 5 wire harness which is 60 cm long that you extend yourself for power, ground and signal with a spool of wire and solder. A "U" bracket is included for mounting in a panel hole. To date, the following gauges are part of the Performance range:
The Performance series is a sober affair, with a black display and red needle. They are available with white or amber backlighting (the change is made directly on the gauge) and, thanks to their black-tinted glass, they reveal no information when they are switched off for greater discretion. In short, a simple, modern series that will appeal to the widest possible range of users.
As their name suggests, Vintage gauges are ideal for adorning the interior of an old or vintage vehicle. The white backlighting can be switched off at will, and the case is fully waterproof. In short, the perfect marriage of retro looks and modern technology!
This concludes our overview of tuning and motorsport gauges from ProSport. These are technologically advanced products, designed with the utmost care, easy to install and, the icing on the cake, available at particularly affordable prices.
If you'd like to see ProSport products up close and personal, we invite you to visit the DriftShop showroom in Berrwiller (Haut-Rhin, France).
Photo sources: ProSport