Kaaz 2-Way Limited Slip Differential for Nissan 370Z
1 in stock
Dispatched Wednesday, May 18, 2022
Maximum Control !
Clutch type 2-way limited slip differential (LSD)
To suit Nissan 370Z (09-20)
Engine code : VQ37VHR
High performances, best reliability
Excellent value for money
Made in Japan, by Kaaz
Bolt on installation
Part no. : SAN3515
This differential shows traces of handling and assembly following an order mistake. It is like new and has never been driven. Compatible only for a 370Z with a manual gearbox, fitted as standard with an open differential.

Ask a question about this product
Kaaz Limited Slip Differentials Specifications
Kaaz clutch type LSDs are made in Japan. They are extremely efficient, reliable and great value for money. Whether for drifting, sporty driving on road or track, or for pure racing, they are acclaimed around the world by both amateur and professional drivers.
Equipped with 8 to 24 discs depending on the model, Kaaz differentials guarantee constant, reliable locking, as well as rapid, efficient and predictive behavior for maximum traction and perfect control. Kaaz limited slip differentials come with all required accessories for installation : they replace the internals of the stock differential by re-using the crown gear and the drive pinion, and go in place without any modification. By favouring traction and control, a Kaaz limited slip differential radically transforms and improves the handling and safety of your vehicle.
1.5-Way or 2-Way ?
Kaaz LSDs are generally available in 1.5-way and 2-way versions. The fundamental difference between a Kaaz 1.5-way and 2-way LSD is its reaction during deceleration : thanks to a particular design of the cams acting on the differential lock, a 1.5-way LSD will react only very slightly when lifting off the accelerator. This feature makes 1.5-way LSDs more suitable for use on an open road, or for use in sporty driving, such as "grip".
Meanwhile, a 2-way Kaaz self-locking differential will block as much when accelerating as when lifting the foot. This is particularly suitable for drift use because it offers better control during transitions, and makes it easier to initiate drifting when braking.
In short : under acceleration, 1.5-way and 2-way LSDs react identically. The deceleration lock is much lower on 1.5-way models, making it more suitable for "grip". For pure and hard drifting, choose a 2-way model.
Kaaz LSD Rating
When assembled at the factory in Japan, Kaaz limited-slip differentials are rated for 100% locking, generally optimal for drifting (both wheels spin at exactly the same speed). However, this value can be modified by changing the order of the discs inside the differential housing, to obtain a locking of 35% or 65% according to your needs, more progressive and less radical for road use or grip racing. The diagram below shows you these different possibilities: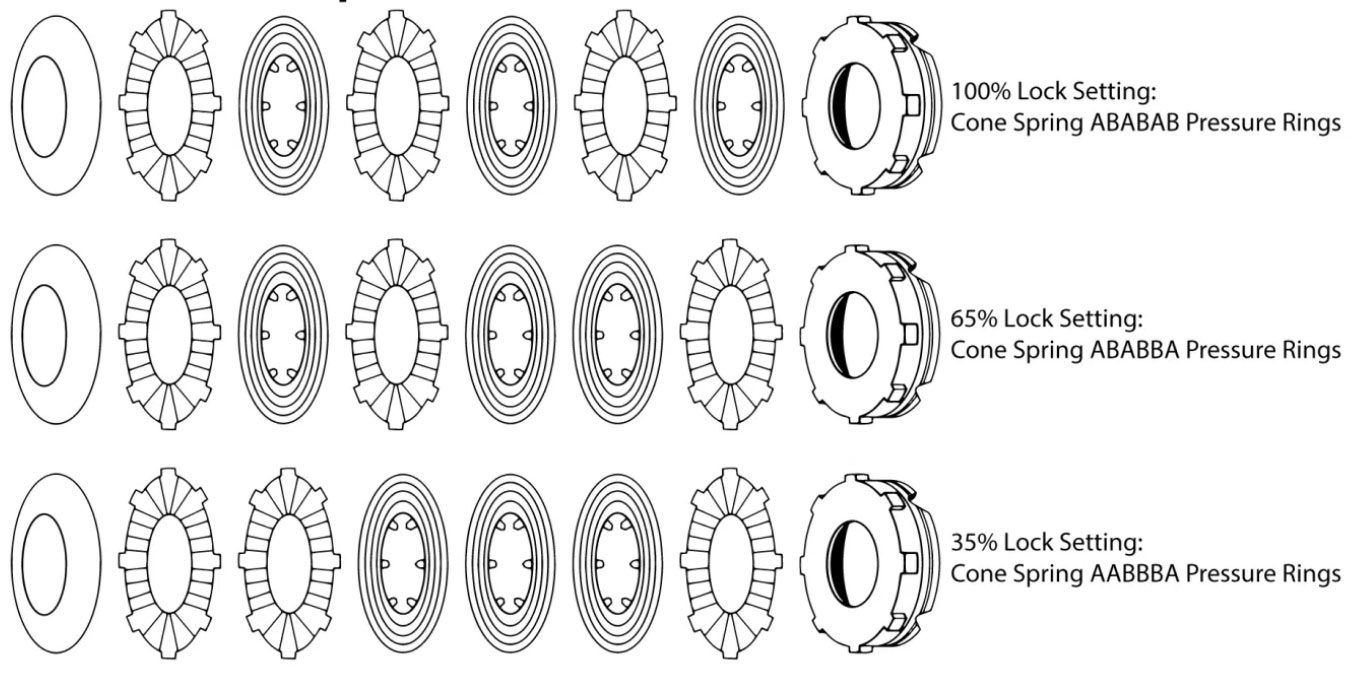 Characteristics
| | |
| --- | --- |
| Car Make | Nissan |
| Car Model | Nissan 370Z |
| Engine Code | VQ37VHR |
| Manufacturer | Kaaz |