HSD MonoPro Coilovers for Mitsubishi Lancer Evolution 8
1 in stock
Dispatched Thursday, January 24, 2019
High performance, great price
For Mistubishi Lancer Evolution VIII
High performance monotube dampers
16 stage damping adjustment
Independent ride height and spring preload adjustment
Camber adjustable front top mounts
Spring rates : 9 kg/mm (front) and 8 kg/mm (rear)
Specific dampers used per application
Consistent, durable performance damping
1 year, unlimited mileage warranty

Ask a question about this product
HSD MonoPro Coilover Specifications
Monotube dampers for superb performance and reliability
Inverted dampers for MacPherson applications
16 stage adjustable damping
Wide range of height adjustment, from near stock, to slammed!
Independent ride height and spring preload adjustment
Aluminium top mounts, spherical bearing for MacPherson/Rubber bush for double wishbone
Zinc anti-corrosive damper coating
Combining monotube dampers with specific spring rates and adjustable damping, HSD MonoPro guarantee excellent usability on the road, and high performance on the track. The damping is easy to change, using a single adjuster over a range of 16 "clicks". The ride height is adjusted by moving the damper body itself, not using spring preload. This gives full damper stroke, at any ride height, a feature which is not the case with many competitors coilovers.
Some manufacturers offering cheap coilovers, use a generic damper for all vehicles regardless of weight and suspension dynamics (you'd find the same damper for Toyota Supra and a Suzuki Cappuccino). With HSD, each damper is specifically selected for each vehicle. The monotube high-pressure type design provides better endurance than a twin-tube design and a very good service life, even under prolonged extreme use.
With HSD coilovers, it's now possible to spend less than € 1,000 on a suspension system, without compromising quality. This level of quality is often only accessible on far more expensive suspension.
HSD Features
Characteristics
| | |
| --- | --- |
| Car Make | Mitsubishi |
| Manufacturer | HSD |
| Car Model | Mitsubishi Lancer Evo 8 (VIII) |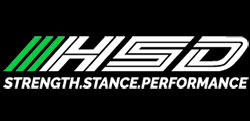 HSD is a brand of coilovers produced by the Korean company, HD System, whow specialise in OEM suspension for numerous manufacturers. With more than 20 years experience, HSD offer high quality coilovers for both sporty driving on and off the track (MonoPro), or simply for every day driving (DualTech).